Lincoln Cathedral has been awarded a Sandford Award for its commitment to providing high quality heritage education.
The accolade promotes and celebrates formal, curriculum-linked education opportunities offered to schools and colleges by heritage sites, and recognition is also given to informal learning and family programmes.
The Very Revd Christine Wilson, Dean of Lincoln said that the award showed that education is at the heart of the Cathedral's mission. "Throughout its history, Lincoln Cathedral has been a special place of worship, prayer and learning, and that continues to this day. Everyone who enters the Cathedral is part of its enduring story, and by working with schools, colleges and community groups we are ensuring that this important tradition continues.
"From an understanding of the principles of the Christian faith to the skills of the craftspeople that built the Cathedral, and the fascinating history that has taken place over almost a thousand years, there is a rich heritage and wealth of inspiring stories for everyone to uncover.
"Every inch of Lincoln Cathedral inspires opportunities for leaning and I'm thankful for the knowledge, skill and enthusiasm of our education team and all of our staff and volunteers at the Cathedral who enable us to share that with so many people."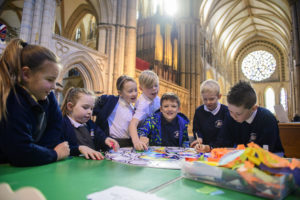 Benjamin Smith, Lead Judge for the Sandford Award, which is managed by The Heritage Education Trust in partnership with Bishop Grosseteste University, said that Lincoln Cathedral is thoroughly deserving of its first Sandford Award in recognition of the quality of the learning experiences it offers to its visitors.
He said, "The Cathedral's imaginative and innovative approach to exploiting the educational potential of this internationally significant heritage site is commendable and has resulted in the development of a multi-faceted and extraordinarily diverse programme of activities with wide-ranging appeal."
Each Sandford Award lasts for five years, meaning the Cathedral will hold the quality mark until 2025.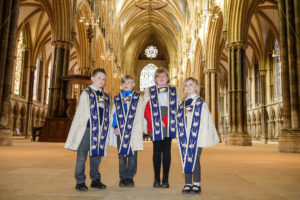 The news of the award comes as preparations continue for the opening of the Old Deanery Visitor Centre later in the year. This will include new a dedicated learning centre, exhibition space and discovery zone. These exciting new spaces will enable the education team at the Cathedral to host new learning experiences for visiting groups and continue to develop an innovative, engaging and inspirational education programme for the future.
For more information on educational visits to Lincoln Cathedral for all age groups and interests, please contact the education manager, Sally Bleasdale on sally.bleasdale@lincolncathedral.com.