As we reflect on the past 12 months and look forward to what the coming year may bring, it is reassuring to be reminded of that constancy of faith and witness through the centuries.
We approached 2021 with cautious optimism; in-person services resumed in mid-February and the vaccine rollout was picking up pace and offering protection and peace of mind. While the journey through 2021 may not have been as smooth as we might wish, there has been much to celebrate – not least the faith, resilience and creativity shown by the community as we navigate the uncertainties of life together and embrace new ways of fulfilling our mission.
Online worship has now become a regular part of our lives; what began as a response to the restrictions imposed by lockdown, has now flourished into an established way for more people to encounter faith and spirituality. Those who are unable to visit the Cathedral to take part in services – not just those who are housebound, but also people from all over the world who hold the Cathedral in their hearts – can now join in from their own home and feel part of our community. Similarly, we contributed to a video for care workers to share with their housebound clients – bringing the music of our talented choir and the joy of the Christmas story directly into their homes.
As well as these alternative methods of engagement, a source of much personal joy has been welcoming so many people into the Cathedral again. After the quiet imposed by the enforced closure of the Cathedral in 2020 and at the start of 2021, it has been uplifting to feel the building resonate with life, music, prayer and thanksgiving. Our recent festive, orchestral performances of The Snowman created a magical atmosphere, bringing light into the dark – both metaphorically and literally – as the nave was illuminated with vibrant colours and sparkling snowflakes, and families and friends came together for an experience which they will remember for years to come.
The cathedral lit purple to reflect the season of Advent has inspired the city and it was wonderful to welcome Songs of Praise for the first time in 16 years. While it was undoubtedly unusual to see Christmas trees in the nave and to be singing Christmas carols in September, the event brought some welcome enjoyment and was a great opportunity to share this city which we all know and love with people from across the country. Heritage Rescue have also been filming throughout the year, shining a spotlight on the skill and dedication of the teams that tirelessly maintain and conserve this historic building.
The opening of our new shop and café has allowed us to offer hospitality to more people than ever before, and in the coming weeks, the final parts of our new visitor centre will officially open, with the unveiling of the Romanesque Frieze which forms the magnificent centrepiece of our new exhibition gallery. The scaffolding on the West Front comes down next month.
On behalf of the Chapter may I express our deep gratitude to all the staff and volunteers who enable our work and ministry to happen and ensure that the Cathedral fulfils its mission of welcome and hospitality every day of the year. Thank you for the faithfulness of our worshipping community, in the prayerful spiritual resourcing of our life which is at the very heart of all that we do.
As we step into 2022, there can be no certainty about what the next year will bring. But what we can be sure of is that we will step forward with hope, demonstrate love and compassion, and continue to ensure that the Cathedral is a visible sign of God's love where all are welcomed.
May you and your loved ones keep safe in these uncertain times and know the peace and love of the Christ child in your hearts and homes this Christmas.
THE VERY REVD CHRISTINE WILSON, DEAN OF LINCOLN
Worship & Mission
Weekly service schedule
The service sheet for the coming fortnight can be viewed on the cathedral website (click link to visit)
Service of Lessons and Carols
Friday 24 December 2021
Readings and music for the Feast of Christmas, sung by the Choristers and Lay Vicars of the cathedral choir.
Midnight Mass of Christmas
11.30pm, Friday 24 December 2021
Sung Eucharist for Christmas Day
10.30am, Saturday 25 December 2021
Festal Evensong for Christmas Day
3.45pm, Saturday 25 December 2021
The Feast of the Epiphany
Thursday 6 January 2022
This significant celebration within the Christmas season will be marked with a service of Sung Eucharist at 7 30pm in St Hugh's Choir, followed by seasonal refreshments.  Music will be sung by the Cathedral Consort.  All welcome.
Epiphany Carol Service
Sunday 16 January, 3.45pm
Featuring beautiful music for the Christmas and Epiphany season sung by the Choristers and Lay Vicars of the Cathedral Choir in the intimate surroundings of the St Hugh's Choir. A special way to remember the gift of Christmas – Christ with us and for all people.
Stillpoint
9am, Friday 21 January
Stillpoint is led by Revd Ann Mazur and takes place once a month in the Ringers' Chapel in Lincoln Cathedral. It is a time of guided silent prayer to be still and aware of the presence of God. All are welcome to join us.
Future dates for Stillpoint are:
Friday 18 February 2022
Friday 18 March 2022
Community
The Chapter of Lincoln Cathedral wish you a very Merry Christmas. May you know the peace of Christ in your hearts and your homes this Christmas.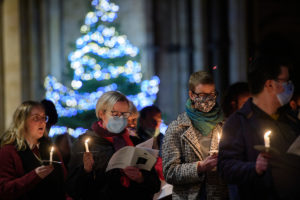 Volunteer Vergers
Join a small group of volunteers supporting the vergers team, by preparing and facilitating services both large and small, helping to prepare for all sacred and secular events and providing initial pastoral care to worshippers and visitors. Be a representative of the Cathedral and the Church of England to the public.
If you are interested in joining the Vergers Team as a volunteer please contact the Dean's Verger Ian Taylor for an informal chat – 01522 561638 or ian.taylor@lincolncathedral.com
Carols for Care
We were very pleased to be able to support Accoustic Nations in creating a video carol service for those in care who are not able to attend such a service in person this year. Please share with anyone you think would enjoying watching. You can find the video at: https://www.youtube.com/watch?v=ypSVFYgGqcM
Sunday School
We are hoping to get Sunday School up and running again but need additional volunteers who are happy to be safely recruited and complete some training in order to support this. Could anyone interested please contact the Cathedral Safeguarding Officer on safeguardingofficer@lincolncathedral.com
Adult baptism and confirmation classes
If you are an adult and interested exploring the Christian faith with a view to being baptised or confirmed at Easter, please contact the Chancellor, Paul Overend, on chancellor@lincolncathedral.com. He and The Revd Dr Julia Hepburn (the Assistant Curate of The Parish of St Mary Magdalene, Lincoln, and a regular duty chaplain at the cathedral) will be holding joint adult baptism and confirmation classes from the last week in January, 2022, using a course called "Pilgrim: A Course for the Christian Journey".
Events
Olivier Messiaen's La Nativité du Seigneur, Colin Walsh
Saturday 8 January 2022, 7pm
Olivier Messiaen's 1935 masterpiece is considered to be one of the greatest Organ compositions of all time. La Nativité du Seigneur is a Christmas tradition at Lincoln Cathedral and one not to be missed.
An evening with Helen Sharman CMG OBE
Friday 18 February 2022, 7.30pm
Helen Sharman became the first British Astronaut in May 1991, aged 27, when she launched on a Russian Soyuz spacecraft. She spent 8 days orbiting the Earth, living and working on the Mir Space Station.
A pioneer, role model and inspirational speaker, Helen will host an unforgettable evening beneath Luke Jerram's Museum of the Moon in the Nave of Lincoln Cathedral as she takes us on a journey through her experiences – from recruitment and training through to the time she spent in space and her return to Earth.
Secret Symphony presents: Interstellar
Saturday 26 February, 7.30pm
Secret Symphony's 50-Piece Limelight Orchestra return to the most wonderful Lincoln Cathedral to perform an exclusive and enhanced 'one night only' show celebrating all things space, stars and Interstellar under Luke Jerram's 'The Museum Of The Moon'.
A reimagined soundtrack that includes such 'stellar' tracks from David Bowie, Coldplay, Muse, Public Service Broadcasting, ELO, Pink Floyd, Emerson Lake & Palmer, Jamiroquai, Daft Punk, Elton John and many, many more.
For more events, extra details and to book tickets, please visit our website – www.lincolncathedral.com
Bible Readings
Sunday 26 December
First Sunday of Christmas
Eucharist
Acts 7: 51-end
Galatians 2: 16b-20
Matthew 10:17-22
Evening Prayer
Genesis 4: 1-10
Matthew 23: 34-end
—–
Sunday 2 January
Second Sunday of Christmas
Eucharist
Jeremiah 31: 7-14
Ephesians 1: 3-14
John 1: [1-9] 10-18
Evening Prayer
1 Samuel 1: 20-end
1 John 4: 7-16
—–
Sunday 9 January
Baptism of Christ
Eucharist
Isaiah 43: 1-7
Acts 8: 14-17
Luke 3: 15-17, 21-22
Evening Prayer
Isaiah 55: 1-11
Romans 6.1-11
—–