Wellbeing and Mental Health
World Mental Health Day, on 10th October each year, raises awareness of mental health issues, mobilises support for mental health care and aims to reduce stigma. The World Health Organisation recognises and promotes the day, and mental health has been included in the UN Sustainable Development Goals.
But the discourse of mental 'health' and 'illness' can locate social problems within the individual sufferer, with individualised and medicalised diagnoses such as 'Post Traumatic Stress Disorder' (PTSD), which depoliticise a person's trauma, making us blind to the social causes of harm.
Both Elijah and Job suffer mental anguish. Elijah 'asked that he might die' (1 Kings 19.4). Job regretted having been born (Job 3.11, 16). But in both accounts, it was social circumstances and social isolation that led to their distress, despair, depression, and suicidal ideation. I too have struggled with depression, anxiety, and suicidal ideation for the past few years and have worked with a therapist. To better understand, I undertook two 10-week training courses in humanist and Buddhist therapy, and a year-long course in Existential Psychotherapy. My experience and training has helped me to understand that mental health can't be separated from systemic violence, social injustices and institutional failures. These can include, eg., racism, sexism, inequality, poverty, poor employment practices, unhealthy power relationships, social isolation, and exclusion, and particularly for young people, the stresses relating to constant assessments, social media and peer pressure.
We are living in a traumatising and uncertain world – with the SARS Covid-19 pandemic, a serious European war, a cost of living crisis, health and social care crises, and multiple ecological crises. We live with fragile and failing institutions, and financially-threatened services. As the British psychiatrist RD Laing reportedly said, "Insanity [is] a perfectly rational adjustment to an insane world." While a few sessions of CBT and some Buddhist-inspired mindfulness may help an individual cope, it will not change the underlying social situation of failing institutions and social systems.
A tradition of liberation psychology was developed by the Catholic priest and social psychologist Dr Ignacio Martín-Baró SJ, who was the academic Vice-Rector of the Jesuit Central American University in San Salvador when he and the Rector, the liberation theologian Prof. Ignacio Ellacuría SJ, were among six Jesuits murdered in 1989 by the Salvadoran military. Liberation psychology sees people not as patients, but products of social systems and dehumanising power relations, and therefore also potential social actors in the project of freedom. In the UK, the work of a network 'Psychologists for Social Change' shares a similar perspective, that psychology can either support oppression or empower liberation.
It's not simply more funding for mental health that is needed to solve our mental health crisis today, but social, political, economic, and institutional change to advance human wellbeing. Elijah was fed and given rest, while Job remarried and had a livelihood restored. Mental health needs a social focus on well-being.
PAUL OVEREND – CHANCELLOR
Worship & Mission
Weekly service schedule
The service sheet for the coming fortnight can be viewed on the cathedral website (click link to visit)
Evensong Sermon – 9 October
Regrettably, our guest preacher for Sunday 9th has had to cancel, being in recovery following a belated NHS operation. The Rev Charles Thody, a Mental Health Chaplain, and sometime Lead chaplain for Northern Lincolnshire and Goole NHS Foundation Trust, will come on another occasion.
Stillpoint – 10 October
The Stillpoint silent contemplative prayer meeting takes place monthly. The next meeting is on 10th October, hosted by the Chancellor, 8.40-9.20, in the Ringers Chapel.
Community
Season of Creation
Between 1 September and 5 October, Christians around the world will be observing a "Season of Creation", praying and caring for the natural world. For more information, please see www.SeasonOfCreation.org (or on social media the hash tag #SeasonOfCreation).
Season of Creation – Sermon Series
During the Season of Creation, our evensong sermons at 3.45pm are as follows:
25.09.22 #3: 'Creation as Sacrament', by The Rev Canon Andrew Christopher Vaughan, Priest In Charge, Swinderby (Benefice), Prebendary of Langford Ecclesia.
02.10.22 #4: 'Eco Journeying', by The Revd Michelle Webb, Assistant Curate of St Giles Church, Lincoln. Member of Lincolnshire Faith & Environment Group.
On The Word and the Common Good
Regrettably, there was not enough interest expressed in the short bible study course 'The Word and the Common Good' for the given dates. The cathedral course has therefore been cancelled for the time being. For the daytime course at the Chaplaincy at Bishop Grosseteste University, In The Chaplaincy Group Space, Student Union Building, Bishop Grosseteste University, please contact – chaplaincy@bishopg.ac.uk
Community Book Group
The Cathedral Community Book Group next meet 10.30-11.30 on Saturday 19th November. We will be discussing 'Priesthood for All Believers: Clericalism and How to Avoid it', by Simon Cuff (SCM 2022). Please buy and read the set book in advance of the discussion. It is available in the Cathedral shop. Revd Simon Cuff will be the preacher and guest lecturer at our St Hugh's Day celebrations, 17th November.
Lincoln Cathedral Common Good Project
Social Theology Lecture Series: Lecture #4
18 October 2022, 6.30-8.00pm
JUST CHURCH? How does Catholic Social Teaching fit into the mission of the Church of England? What is the Anglican legacy for the common good and how might it become a church for England? Revd Dr Malcolm Brown, who is the Director of Mission and Public Affairs for the Church of England, and Visiting Professor in Theology and Religious Studies at the University of Winchester. He is the editor of, and an author in, 'Anglican Social Theology: Renewing the Vision Today' (2014).
Homeless packages
We were so grateful to receive many donations for the emergency packages used for the homeless a few years ago.  These packages are now running low on items.  If you could spare any of these items to help refill the packages we would be very thankful, socks, wipes, toothbrush and toothpaste, water, snack bars, sanitary items, deodorants and toiletries.  If donations could be left at the Vergers Vestry.
LCCA Autumn Events
Thursday 20 October, 6.30pm for 7pm
Harvest Supper in the Chapter House
Tickets: £15 (2 course meal & entertainment) on sale after Sunday morning Eucharist.
Please bring your own choice of drinks.
Donations of non-perishable foodstuffs for local charities.
Monday 14 November, 6.30pm for 7pm
LCCA AGM in the Chapter House
If you are interested in any of these events, please ask a committee member or email lcca@lincolncathedral.com
Events
Pub to Pulpit
8 October – Join Cathedral Choir, Broomdasher and Coracle singing some of our best loved hymns using tunes collected by Vaughan Williams
The Hallé in Lincoln
14 October, 7pm – The Hallé is a Cathedral favourite and is returning this year as part of its 2022–2023 season with conductor, Taavi Oramo.
Handel's Messiah
19 November – Lincoln Cathedral Choir return with their performance of Handel's Messiah, a spectacular piece of music which is to be accompanied by Lincolnshire Chamber Orchestra.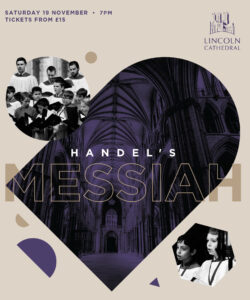 For full details of events, and to book tickets, please visit https://lincolncathedral.com/forthcoming-events/
Bible Readings
Sunday 2 October
Sixteenth Sunday after Trinity
Eucharist
Habakkuk 1. 1-4; 2. 1-4
2 Timothy 1. 1-14
Luke 17. 5-10
Evening Prayer
Nehemiah 5. 1-13
John 9
—–
Sunday 9 October
Seventeenth Sunday after Trinity
Eucharist
2 Kings 5. 1-3, 7-15c
2 Timothy 2. 8-15
Luke 17. 11-19
Evening Prayer
Nehemiah 6. 1-16
John 15. 12-end
—–
Sunday 16 October
Eighteenth Sunday after Trinity
Eucharist
Genesis 32. 22-31
2 Timothy 3. 14- 4.5
Luke 18. 1-8
Evening Prayer
Nehemiah 8. 9-end
John 15. 12-end
—–