Here in the Cathedral, Friday 4th February is the day we celebrate Gilbert of Sempringham with prayers and a procession to the Gilbert pots after Evensong. This local saint from Bourne in Lincolnshire established the only British monastic order during the Middle Ages. He was canonised in 1202.
Many people have been enjoying the series of Journeys of Faith Guidebooks providing pilgrim routes from across Greater Lincolnshire to the Cathedral. It is timely to be able to announce the publication of the latest edition in that series.
The focus of this pilgrimage guidebook is Gilbert of Sempringham who in his own discipleship gives us an example of a life transformed. In the introduction to the book, we hear something of his vocational story that led him to establish a "rule of life" and respond to God's call. It was a journey of faith that he shared with the women and men of the double monastery he founded.
Gilbert encountered a moment of reckoning which the Franciscan writer on the saint, Leonard Foley, describes as: 'like the oak when torn and buffeted by the wind strikes its root deeper into the soil, so the storms of life strengthened his mind and character."
We see in the story of Gilbert an ability to respond to the challenges that confronted him. As he opened himself to God and discovered his own unique meaning and potential, he then applied it to nurture spiritualty and wisdom amongst those whom society ranked as of no consequence. It is interesting to note how the flourishing of the Gilbertine Order was founded on that decision to give dignity and worth to those from whom no great achievement was expected. The grace that led to the transformation of his own life inspired him to lead others along the same path.
Now that Covid restrictions are easing and as we look with anticipation to the signs of spring, taking time out, slowing down the pace and removing ourselves from the preoccupation of daily life to walk the Lincolnshire countryside is an opportunity to notice things both outwardly and also at a more spiritual level. It creates the space to ponder and reflect more deeply on our own sense of meaning and anchor ourselves in the bigger picture journeying with pilgrims and spiritual seekers down through the centuries along these ancient pathways and holy sites. Whether you are buffeted by the storms of life or a physical wind blowing across the fields, making the journey will be a source of blessing and renewal.
DEAN CHRISTINE
Worship & Mission
Weekly service schedule
The service sheet for the coming fortnight can be viewed on the cathedral website (click link to visit)
Stillpoint
Friday 18 February 2022, 9am
Stillpoint is led by the Revd Ann Mazur and takes place once a month in the Ringers' Chapel in Lincoln Cathedral.
It is a time of guided silent prayer to be still and aware of the presence of God. All are welcome to join us.
Stillpoint takes place on the third Friday of the month.
Future dates:
Friday 18 March
Friday 15 April
Friday 20 May
Friday 17 June
 Sacred Space – Under the Moon
Sunday 20 February, 7pm
Sacred Space is a gentle and reflective service with time to wonder, the opportunity to use all your senses to explore faith and the chance to experience the unique and serene atmosphere of the Cathedral as the day draws to a close. It is led by the Revd Canon David Dadswell and starts at 7pm.
 Future dates for Sacred Space are:
Sunday 20 March
Sunday 22 May
Sunday 17 July
Forthcoming services
Solemn Evensong for Ash Wednesday
Wednesday 2 March 2022 at 4pm
Music sung by the Choristers and Lay Vicars of the Cathedral Choir
It is planned that this service will be broadcast live on BBC Radio 3, and members of the congregation are asked to be in their places by 3.45pm at the latest.
Sung Eucharist with Imposition of Ashes for Ash Wednesday
Wednesday 2 March 2022 at 7.30pm
Music sung by Lincoln Cathedral Consort
Solemn Evensong and procession for Edward King
8 March 5.30pm
Community
Sub-Sacrist
After a significant period of service to the cathedral as Sub-Sacrist, Tony Wintin has retired from that post.  He has provided kindly advice and correction throughout the past twelve months as I have sought to understand what is 'normal' in abnormal times, for which I cannot be grateful enough.  He intends to remain an active member of the servers' team, so we will continue to benefit from his dignified ministry among us for some time to come!
Chapter have agreed to confirm Jonathan Clark (previously Assistant Sub-Sacrist) to fill the office of Sub-Sacrist, with Carol Hill and Matthew Tarling as his assistants.
Nick Brown, Precentor and Sacrist
 Journeys of Faith guidebook
You can buy the latest Journeys of Faith guidebook – A Pilgrimage from Semperingham to Lincoln – from Lincoln Cathedral Shop. It is also available online – https://lincolncathedral.com/product/journeys-of-faith-guidebook-a-pilgrimage-from-sempringham-to-lincoln/#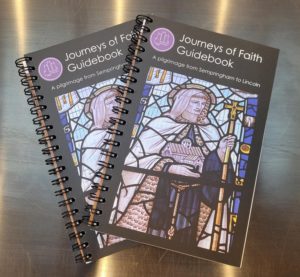 LCCA Shrove Tuesday Supper
1 March 2022
The LCCA invites you to the Shrove Tuesday Supper on 1 March 2022 at 6.30pm in the Chapter House when you can enjoy a two-course meal and entertainment.
Tickets are £10 and can be purchased after Sunday morning Eucharists. When buying your tickets, please let us know if you have any dietary requirements.
We look forward to welcoming you at this event.
Lincoln Cathedral Choir and Old Choristers' Association
The LCCOCA supports and promotes the Cathedral Choir.  It also provides help and support for its members, particularly new chorister parents.  It organises fundraising and social events including an annual reunion for former choristers.
So far, members have raised more than £20,000 towards a £50,000 Choristership, Old Choristers already having raised £70,000 for Choristerships. The Association is the major fundraiser for choir tours abroad. The LCCOCA President is Dr. John Rutter, CBE.
Membership is open to parents of serving Choristers, Lay Vicars, former Choristers of Lincoln Cathedral and others with a long-standing association with the Choir.
More information can be obtained by contacting  lccoca@lincolncathedral.com
Events
Luke Jerram's Museum of the Moon
7 – 27 February
Come and experience the majesty of the moon, suspended beneath the central tower of Lincoln Cathedral.
The Cathedral will provide a spectacular backdrop for the stunning installation which measures seven metres in diameter and features 120dpi detailed NASA imagery of the lunar surface. At an approximate scale of 1:500,000, each centimetre of the internally lit spherical sculpture represents 5km of the moon's surface.
An evening with Helen Sharman CMG OBE, the first British person in space
Friday 18 February, 7.30pm
Helen Sharman became the first British Astronaut in May 1991, aged 27, when she launched on a Russian Soyuz spacecraft. She spent eight days orbiting the Earth, living and working on the Mir Space Station.
A pioneer, role model and inspirational speaker, Helen will host an unforgettable evening beneath Luke Jerram's Museum of the Moon in the Nave of Lincoln Cathedral as she takes us on a journey through her experiences – from recruitment and training through to the time she spent in space and her return to Earth.
Secret Symphony presents: Interstellar
Saturday 26 February, 7.30pm
Secret Symphony's 50-Piece Limelight Orchestra return to Lincoln Cathedral to perform an exclusive and enhanced 'one night only' show celebrating all things space, stars and Interstellar under Luke Jerram's 'The Museum Of The Moon'.
A reimagined soundtrack that includes such 'stellar' tracks from David Bowie, Coldplay, Muse, Public Service Broadcasting, ELO, Pink Floyd, Emerson Lake & Palmer, Jamiroquai, Daft Punk, Elton John and many, many more.
The Starring Lincoln Theatre Company present The Hunchback of Notre Dame
23 May – 4 June
Following spectacular sell-out performances of Jesus Christ Superstar, Jekyll & Hyde and Oliver!, The Starring Lincoln Theatre Company return with a performance of the well-known Disney adaptation of The Hunchback of Notre Dame.
The production is sure to be a fantastic show. Previous shows received rave reviews and we expect the 2022 production to be no different.
To avoid disappointment, please be sure to book your tickets as soon as you can – we expect them to sell out fast!
Lincoln Cathedral Flower Festival: Vision
4 – 8 August
The Lincoln Cathedral Flower Festival will take place in August 2022 celebrating 950 years of Lincoln Cathedral, and the visionaries who had the inspiration to build such a wonderful building and those who followed, changing our lives throughout history.
Stunning displays will blossom in every area of the magnificent Lincoln Cathedral, bringing it to life in a unique and inspiring way.
The festival will celebrate the life and works of St Hugh of Lincoln, as well as many other notable visionaries whose ideas and actions have shaped the world we live in and changed our lives.
For more events, extra details and to book tickets, please visit our website – www.lincolncathedral.com
Bible Readings
Sunday 6 February
Fourth Sunday before Lent
Eucharist
Isaiah 6.1-8
1 Corinthians 15.1-11
Luke 5.1-11
Evening Prayer
Wisdom 6 1-21
Colossians 3.1-22
—-
Sunday 13 February
Third Sunday before Lent
Eucharist
Jeremiah 17.5-10
1 Corinthians 15.12-20
Luke 6.17-26
Evening Prayer
Wisdom 11.21 –12.11
Galatians 4.8-20
—–
Sunday 20 February
Second Sunday before Lent
Eucharist
Genesis 2.4b-9, 15-end
Revelation 4
Luke 8.22-25
Evening Prayer
Genesis 1.1—2.3
Matthew 6.25-end
—–