Visions
The spectacular Lincoln Cathedral flower festival 'Vision' celebrates the lives, ideas and actions of the visionaries who have helped shape the world. Their lives' works immortalise these visionaries, and the flowers celebrate their vision.
Yet part of what makes a flower festival an extraordinary experience is the flowers' impermanence. The festival took days to set up with great dedication and prayerful focus, like the meditative creation of a beautiful Tibetan sand mandala. But as a sand mandala reminds us of impermanence, when the sand is swept away, so too the flowers will all die.
Flowers have long been associated with the transience of life. The Greek elegiac poets wrote of the transient beauty of the 'flower of youth', and The Book of Job reminds us that, 'Man that is born of a woman is of few days, and full of trouble. He cometh forth like a flower, and is cut down…' (Job 14.1-2a KJV).
The festival was postponed because of the COVID lockdown. Knowing that has led me to see the flowers as a homage to the people who died while having COVID, over 200,000 in the United Kingdom of Great Britain and Northern Ireland alone. We have not grieved together with a national memorial service, but the flowers' impermanence gives me cause to mourn the passing of life and to see the fragility of their beauty as a celebration of the lives of those who died.
Will a vision emerge from our experience of our collective brush with death?
Many people caught COVID while working and volunteering, some in public service, others caring for loved ones. The legacy of the loss of life in public service in WWII was the Beveridge Report, published 80 years ago (Nov 1942), with its aim to rid us of the five "giant evils" of want, disease, ignorance, squalor and idleness.
What vision will be the legacy of those who died from Covid? I have a dream of a national mental health and wellbeing service, but the UK struggles for a vision while managing (1) an economic crisis of rising costs, and of energy and food security, which hit low-paid people hardest; (2) an ecological crisis of environmental inaction and increased risk of zoonotic diseases; (3) a political crisis of confidence in democracy across the countries and regions of the UK; and (4) a public health crisis, with poor diets, and underfunded nursing care and mental well-being support. These four horses of the apocalypse judge us: 'Where there is no vision, the people perish.' (Proverbs 29:18 KJV)
A hymn from The Wisdom of Solomon (Ch 3) celebrates that, '… the souls of the righteous are in the hand of God, and no torment will ever touch them. …Their departure was thought to be a disaster, and their going from us to be their destruction; but they are at peace. For though in the sight of others they were punished, their hope is full of immortality.'
While the departed are at peace, I dream of some emerging vision to shape the world we live in, a hope that might both celebrate and immortalise them.
DR PAUL OVEREND, CHANCELLOR
Worship & Mission
Weekly service schedule
The service sheet for the coming fortnight can be viewed on the cathedral website (click link to visit)
Stillpoint
15 August
The Stillpoint silent contemplative prayer meeting takes place monthly, in the Ringers Chapel. The next meeting is on  15 August, 8.40am-9.20am, hosted by the Chancellor and then 19 September, hosted by Rev Anne Mazur.
Community
Minibus drivers needed
The music department is thriving. We have a fantastic group of established choristers and a number of new probationers.  Our choristers come from a range of schools both in Lincoln and around Lincolnshire.  We provide transport for them after morning rehearsals and school pickups for afternoon rehearsals. We are always looking to expand our team of drivers to help with transporting the choristers. If you are interested, please contact us for more details.  Drivers would be needed from 8.15am to 9.30am in the mornings and 2.45pm to 4pm dependent on the actual journeys preferably 3-4 times per week. This is a paid role.
As one of our drivers, you will have the opportunity to be a part of the music department and a much-valued member of the team.
To register interest or enquire for further details please email Melissa, Liturgy and Music Administrator at music@lincolncathedral.com
Summer Bible Study – 1 Peter
The Chancellor is leading a bible study on 1 Peter in the Wednesdays of August at 4pm-5pm in the Wickham Reading Room. This will be using a Lambeth study guide, 'The First Letter of Peter: A Global Commentary' by Jennifer Strawbridge, which is published by SCM and is for sale at £14.99 per copy in the Cathedral shop. We shall meet in the Cathedral Café.
Cathedral Community Book Group
10 September
The Cathedral Community Book Group looks at issues of Christian theology, life and spirituality. Meetings are on alternate months, between 10.30am-11.30am on Saturday mornings. You are invited to any meeting to discuss a book, without further commitment, but please buy and read the set book in advance of the meeting. They are available in the Cathedral shop. The venue is yet to be confirmed.
10 September, Like there's no Tomorrow: Climate Crisis, Eco-Anxiety and God, by Frances Ward (Sacristy Press 2020)
12 November, Priesthood of All Believers: Clericalism and How to Avoid it, by Simon Cuff (SCM 2022)
Lincoln Cathedral Common Good Project
Social Theology Lecture Series – Lecture #3
27 September 2022, 6.30-8pm
JUST BEING? On the dignity and divine calling of the human person. Can people be who they truly are in the modern world? By Edward Hadas, who is a Fellow at Blackfriars Hall, Oxford, a freelance journalist and author working on moral economics and finance. His latest book is Counsels of Imperfection: Thinking Through Catholic Social Teaching.
Social Theology Lecture Series: Lecture #4
18 October 2022, 6.30-8pm
JUST CHURCH? How does Catholic Social Teaching fit into the mission of the Church of England? What is the Anglican legacy for the common good and how might it become a church for England? Revd Dr Malcolm Brown, who is the Director of Mission and Public Affairs for the Church of England, and Visiting Professor in Theology and Religious Studies at the University of Winchester. He is author of Anglican Social Theology: Renewing the Vision Today
Events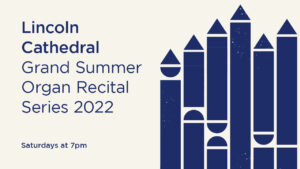 Grand Summer Organ Concert Series
13 August – Jonathan Hope, Assistant Director of Music, Gloucester Cathedral – Silent movie improvisation – 'Phantom of the Opera'
20 August – Tom Bell, Concert Organist
3 September – Colin Walsh – Organist Emeritus, Lincoln Cathedral
10 September – Darius Battiwalla – Leeds City Organist
17 September – Alana Brook – Assistant Organist, Lincoln Cathedral
24 September – Jeffrey Makinson – Organist, Lincoln Cathedral
Pub to Pulpit
8 October
Join Cathedral Choir, Broomdasher and Coracle singing some of our best loved hymns using tunes collected by Vaughan Williams
Royal Air Force Music celebrates The Queen's Platinum Jubilee
24 November 2022
Join the full-time professional musicians of the Royal Air Force for a special programme of music to recognise this unique occasion.
Set within the Nave of Lincoln Cathedral will provide an incredible backdrop for the band who will perform a special programme to celebrate the Queen's Platinum Jubilee.
Our compere for the evening is Melvyn Prior, BBC Radio Lincolnshire.
For full details of events, and to book tickets, please visit https://lincolncathedral.com/forthcoming-events/
Bible Readings
Sunday 7 August
Eighth Sunday after Trinity
Eucharist
Genesis 15. 1-6
Hebrews 11. 1-3, 8-16
Luke 12. 32-40
Evening Prayer
Isaiah 11. 10-end of 12
2 Corinthians 1. 1-22
—–
Sunday 14 August
Ninth Sunday after Trinity
Eucharist
Jeremiah 23. 23-29
Hebrews 11. 29 – 12.2
Luke 12. 49-56
Evening Prayer
Isaiah 28. 9-22
2 Corinthians 8. 1-9
—–
Sunday 21 August
Tenth Sunday after Trinity
Eucharist
Isaiah 58. 9b-14
Hebrews 12. 18-29
Luke 13. 10-17
Evening Prayer
Isaiah 30. 8-21
2 Corinthians 9
—–