One of the great joys of life in this cathedral is the huge crowd of volunteers who give of their skills, their commitment, and their love to make the cathedral a place of beautiful worship, warm (at least in emotional terms!) welcome, practical help and inspiring wonder. There is a big, paid staff of splendid professionals in a range of disciplines who are key. Yet their jobs would be impossible without volunteer guides, servers, stewards, flower arrangers, bell ringers, readers, intercessors, educators, sewers, chaplains and so on. Please forgive me if I have left your team out. At its best the cathedral's ministry is a massive, spectacular, inclusive example of Christian teamwork – so many people responding to God's calling to mission and service.
When the Church talks about calling or vocations, it is often assumed that the greatest Christian vocation to aspire to is to be ordained as a priest. It is a very special vocation, but it's not the best. The best is the calling for each of us to realise our baptism in our own way. To make real in our lives what our baptism means for us, for the world in which we exist and for God. The baptism of Christ, the Gospel and the theme for this Sunday, unlike the Christmas events, occurs in all four Gospels, surrounded by signs of God's presence, God's pleasure, God's commitment, God's blessing and God's authorisation. The heavens were opened; the Spirit descended in the form of a dove; and a voice from Heaven spoke, 'You are my son whom I love, with you I am well pleased'.
As baptised Christians, when we realise/make real our baptism, we are one with Jesus in responding to God's call, in addressing the suffering and injustice of our world, in offering our talents and our weakness to show God's love, and in facing the power of evil even up to death, and all because we respond to God's commitment to us in our love, worship and faith in return.
The diocese is working on an extensive plan called A Time to Change Together in part to address the financial challenges we face, but also to revolutionise the way we offer service and the good news to the good folk of Greater Lincolnshire. It is about working collaboratively across boundaries of lay and ordained, paid and voluntary, and across the many diverse groupings of old and young, male and female, ethnicities, abilities, sexualities and class. It may seem that this is because we simply cannot afford the number of priests we used to have. That is part of it. Nevertheless, what is being developed and nurtured comes out of the growing, modern understanding that our key calling is to realise our baptism.
For many in the diocese it will be a big culture shock. The cause of that is likely to have been people like me in priest's orders who have, over many years, enjoyed and cultivated (consciously or unconsciously) the notion that the clergy are the proper, professional Christians and any other people getting involved are OK but probably a bit second best. For very many, though, if we can get it right, this will be an occasion for rejoicing, freeing all God's people to join in the work God is doing to heal and lift up. The cathedral, if we let it, can be such a good test case and example of how that collaboration works to God's glory. Listen to the voice from heaven, 'You are God's daughters and sons whom God loves and in you God is well pleased'.
THE REVD CANON DAVID DADSWELL
Worship & Mission
Weekly service schedule
The service sheet for the coming fortnight can be viewed on the cathedral website (click link to visit)
Sacred Space
Sacred Space will be taking place at 7pm on the following Sundays in 2023: 22 January, 19 March, 21 May, 16 July, 10 September and 19 November. Sacred Space is a gentle, reflective service with time to wonder, the opportunity to use all your senses to explore faith and the chance to experience the unique and serene atmosphere of the Cathedral as the day draws to a close.
Eucharist for the Feast of Epiphany – 6 January
On Friday 6 January at 7:30pm we will be having a sung Eucharist for The Feast of Epiphany with music sung by the Cathedral Consort.
Epiphany Carol Service – 22 January 3.45pm
The Cathedral Choir will be singing for this special Carol Service in celebration of Epiphany.
Stillpoint: 2023
There will be no Stillpoint Contemplative Prayer meeting in January, as the Chancellor is unwell. It is hoped that this will resume on Monday 20 February, and 20 March, when it will be from 8.40-9.20am, in the Ringers' Chapel.
Community
Farewell to Dean Christine
The Very Revd Christine Wilson's farewell Evensong will take place at Candlemas on 2 February 2023, at 5.30pm. A card and collection will be available in the Vergers Vestry from Friday 6 January 2023.
Community Book Group: postponed
Our January book, due to meet on Saturday 21 January, is being postponed. Apologies to all who have been reading the book. 'Faith after Doubt', by Brian D. McLaren. This will be considered on a future date.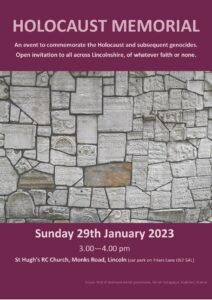 LCCA Shrove Tuesday Supper
21 February 2023
The LCCA invites you to the Shrove Tuesday Supper on 21 February at 6.30pm for 7pm in the Chapter House to enjoy a 2-course meal and entertainment. Please bring your own choice of drink. Tickets are £15 and can be purchased after Sunday morning Eucharists or by emailing lcca@lincolncathedral.com. When buying your tickets, please let us know if you have any dietary requirements. We look forward to welcoming you at this event.
Events
Messiaen's La Nativité du Seigneur
7 January, 7pm
Our Organist Jeffery Makinson will be performing the seasonal favourite spectacular by Olivier Messiaen on the Father Willis Organ on Saturday 7 January at 7pm.
Holocaust Memorial Day
29 January, 3pm
There will be a memorial service to mark the Holocaust and subsequent genocides, at St Hugh's Church, Monk's Row, Lincoln, on 29th January at 3.00p.m.
Life by LUXMURALIS
15 to 18 February
Luxmuralis are bringing the light show spectacular, Life, to Lincoln Cathedral. Mesmerising projections and atmospheric ambience will transform the inside of this historic building into a dazzling extravaganza to celebrate the World: its Earth, Sea and Sky, and all that call it home.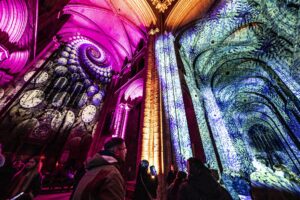 St Barnabas Morriston Orpheus Choir
4 March, 7pm
In support of St Barnabas Hospice, the world-famous Morriston Orpheus Choir will be returning to Lincoln Cathedral.
For more information and to get tickets, go to our Forthcoming Events page on our website.
St John Passion
25 March, 7.30pm
Performed by Lincoln Cathedral Choir, the St John Passion is a much-anticipated regular event in the Cathedral's calendar. Tickets will be on sale shortly.
A night at the Opera – London Concertante
15 April, 7.30pm
London Concertante present a captivating evening at the opera with various works of the finest opera arias and overtures, including works by Puccini, Verdi, Rossini and Mozart.
For more details of forthcoming events and to book your tickets, go to our website at www.lincolncathedral.com/forthcoming-events
Bible Readings
Sunday 8 January
First Sunday of Epiphany
Eucharist
Isaiah 42.1-9
Acts 10.34-43
Matthew 3.13-end
Evening Prayer
Joshua 3.1-8, 14-end
Hebrews 1.1-12
—–
Sunday 15 January
Second Sunday of Epiphany
Eucharist
Isaiah 49.1-12
1 Corinthians 1.1-9
John 1.29-42
Evening Prayer
Ezekiel 2.1- 3.4
Galatians 1.11-end
—–
Sunday 22 January
Third Sunday of Epiphany
Eucharist
Isaiah 9.1-4
1 Corinthians 1.10-18
Matthew 4.12-23
Evening Prayer
Ecclesiastes 3.1-11
1 Peter 1.3-12
—–