August 6th is the Feast of the Transfiguration. It invites us not only to consider the revelation of the divine love of Christ made present amongst his closest disciples but also to contemplate glimpses of glory and those transfiguration incidents in our own lives.
Have you ever wanted to capture what felt like a foretaste of heaven or a sacred encounter?
In the spiritual journey, we can find ourselves unexpectedly caught up into a sense of mystery and joyful wonder. Plunged into moments of transcendence when we are lifted out of the ordinary and the mundane into a taste of profundity.
Whilst we can never manufacture such occasions, it is characteristic to look to the context of a particularly moving act of worship, or a deep and spiritual happening in prayer, to the liminality of sacred space and even the ability of a cathedral to whisper of holiness.  Some find nature in all its beauty and diversity as the place that stirs their soul and likewise for others it is the medium of poetry, art or music.  These are common channels of divine mystery.
But mountain top experiences of elation and insight can also creep up on us in the ordinariness of our day. How often have you been astonished by the innocent wisdom of a child and felt that you have looked into the face of Christ? Or found yourself mulling over a passing exchange with a stranger and had the feeling it was so full of truth and grace that it was more of a God incident than a coincidence?
Writing on the Feast of the Transfiguration in "Sounding the Seasons" sonnets by Malcolm Guite, I found these inspiring words:
"The Love that dances at the heart of things
Shone out upon us from a human face
And to that light the light in us leaped up,
We felt it quicken somewhere deep within,
A sudden blaze of long-extinguished hope
Trembled and tingled through the tender skin."
The gift is to be open to this awakening and recognise God at work. I love the expression of this as "seeing God afresh and realising it is not God who has been asleep but us."
August usually affords a little more space and time to tune in our spiritual antennae and contemplate the meaning of things and be attentive to the presence of God in our midst. It can be a time to listen to our inner longings, to recreate and take stock.
But a word of caution, sacred encounters tend to lead us on new journeys, set us off on fresh pathways and bring us to a deeper sense of vocational calling. After the past 18 months that might be just what we all need.
DEAN CHRISTINE
Worship & Mission
Weekly service schedule
The service sheet for the coming fortnight can be viewed on the cathedral website (click link to visit)
 Upcoming special services over the next couple of months:
14th August, 5.30pm
Choral Evensong with Lincoln Cathedral Consort
15th August, 10am
Eucharist for the Feast of the Blessed Virgin Mary
15th August, 3.45pm
Festal Evensong for the Feast of the Blessed Virgin Mary
Community
Sunday School
Sunday School will resume on Sunday 5 September during the 10am Eucharist.
Cathedral Youth Choir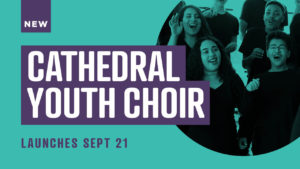 In September this year, Lincoln Cathedral will be launching a new youth choir.
It is suitable for school students Years 10-13, students or non-students aged 18-21 and is open to all voices parts, male and female, by audition.
To find out more, please contact Aric Prentice – aric.prentice@lincolncathedral.com or 01522 561651
Events
Lunchtime Recital – Lydia South
Saturday 14 August, 1pm
Entry to the recital is included with your Lincoln Cathedral entry ticket.
Lydia has been a Lincoln Cathedral chorister for the past eight years, and is a semi-finalist in this year's  BBC Young Chorister of the Year. In 2019 Lydia made her Festival Hall debut, as the child soloist in a revival performance of Parry's Oratorio Judith, with the London Mozart Players.
Lydia will be accompanied in this recital by Aric Prentice, Lincoln Cathedral Director of Music. The programme will include Evening Hymn by Purcell, O Mio Babbino Caro by Puccini and The Shepherd's Song by Elgar among many others.
Organ Recital – Jeffrey Makinson
Saturday 14 August, 7pm
Tickets £6
The programme for the evening will include music from Elgar, Jongen, Dupré and Macmillan
Music on the Dean's Green
Friday 3 September. 6.30pm
Tickets £25, including a drink and canapés reception.
The Lincoln Cathedral Music Council invites you to 'Music on the Dean's Green'.
Enjoy a sparkling reception with delicious canapes before settling in for an evening of beautiful music performed by Lincoln Cathedral Choir in the tranquil surroundings of the Dean's Green.
Conducted by Director of Music, Aric Prentice and accompanied by Assistant Director of Music, Jeffrey Makinson, the choir will perform a selection of classics; perfect for a late summer's evening.
Organ Recital – Colin Walsh
Saturday 9 October, 7pm
Tickets £6
The programme for the evening includes Dupré, Bach, Tournemire and Langlais
Olivier Messiaen's La Nativité du Seigneur, Colin Walsh
Saturday 8 January 2022, 7pm
Tickets £6
Olivier Messiaen's 1935 masterpiece is considered to be one of the greatest Organ compositions of all time. La Nativité du Seigneur is a Christmas tradition at Lincoln Cathedral and one not to be missed.
For more details about events and to book tickets, please visit our website – www.lincolncathedral.com
Bible Readings
Sunday 8 August
Tenth Sunday after Trinity
Eucharist
1 Kings 19: 4-8
Ephesians 4: 25- 5:2
John 6: 35, 41-51
Evening Prayer
Ecclesiasticus 43: 13-end
Hebrews 12: 1-17
—–
Sunday 15 August
Blessed Virgin Mary
Eucharist
Isaiah 61: 10-end
Galatians 4: 4-7
Luke 1: 46-55
Evening Prayer
Song of Solomon 2: 1-7
Acts 1: 6-14
—–
Sunday 22 August
Twelfth Sunday after Trinity
Eucharist
Joshua 24: 1-2a, 14-18
Ephesians 6: 10-20
John 6: 56-69
Evening Prayer
Exodus 4: 27-5.1
Hebrews 13: 16-21