Truly I tell you, whatever you did for one of the least of these brothers and sisters of mine, you did for me." Matthew 25:40
St Giles medieval hospital was established at some time in the thirteenth century initially for the poor but later for 12 poor ministers and retired servants from the Cathedral. They received ½d. daily for their food, and 4s. yearly for their clothing. It became an almshouse for poor clerks until the eighteenth century when it fell into ruins.
Lincoln Cathedral has been the trustee of The St Giles Hospital charity, an historic trust which was established to 'relieve either generally or individually men resident in the District of Lincoln who are in conditions of need, hardship or distress.'
Because of the restrictions on how this particular fund can be used, we have struggled in recent years to effectively spend the money in the way in which it was intended. As a result, the decision was made by Chapter to wind up the charity and transfer around £20,000 to YMCA Lincolnshire to support their work with the homeless and vulnerable in Lincoln.
We are delighted to be able to enact Christ's words and practically assist the work of YMCA Lincolnshire and the Nomad Centre in this way. The Nomad Centre and YMCA Lincolnshire provide vital support and services to people who find themselves in the most challenging of situations. Through the expertise, compassion and dedication of all their staff, they are the ideal organisation to ensure that this money can be used in the most effective way, to help the greatest number of people and that it will continue to be used in the way in which the original charity intended.
It is good to have an opportunity to strengthen this partnership and enable one of the Five Marks of Mission: to respond to human need by loving service.
DEAN CHRISTINE
Worship & Mission
Weekly service schedule
The service sheet for the coming fortnight can be viewed on the cathedral website (click link to visit)
Upcoming special services over the next couple of months:
11th July, 3.45pm
Choral Evensong with 'reading out' of choristers, and marking the end of the choir term.
25th July, 10am
Solemn Eucharist for the Feast of James the Apostle, including organ music and the plainsong propers for the feast.  This will also mark Colin Walsh's time as Organist Laureate and appointment as Organist Emeritus.
15th August, 10am
Solemn Eucharist for the Feast of the Blessed Virgin Mary
15th August, 3.45pm
Festal Evensong for the Feast of the Blessed Virgin Mary
Community
New shop and Café
The new Lincoln Cathedral Shop and Café officially opened to the public on Monday 28 June. If you have not had the opportunity to visit yet, we hope that you will be able to visit this fantastic new spaces very soon.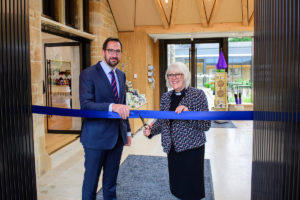 Noveltea
On Saturday 31 July between 11am and 3pm, the Cathedral Shop will be holding a tasting session of Noveltea, an alcoholic tea. All are welcome to come along and try this unusual product.
July 19
The government has indicated that most COVID restrictions will be relaxed on 19 July.
We await the exact details, however, we wish to reassure everyone that we will continue to exercise caution and care to ensure that our staff, volunteers, community and all visitors can enjoy their time in the Cathedral in comfort and safety.
More details will follow in the next Chapter Letter.
Cathedral Youth Choir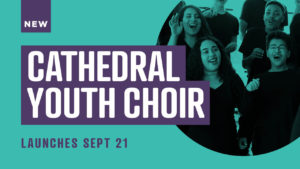 In September this year, Lincoln Cathedral will be launching a new youth choir.
It is suitable for school students Years 10-13, students or non-students aged 18-21 and is open to all voices parts, male and female, by audition.
To find out more, please contact Aric Prentice – aric.prentice@lincolncathedral.com or 01522 561651
Events
Organ Recital – Jeffrey Makinson
Saturday 14 August, 7pm
Tickets £6
The programme for the evening will include music from Elgar, Jongen, Dupré and Macmillan
Organ Recital – Colin Walsh
Saturday 9 October, 7pm
Tickets £6
The programme for the evening includes Dupré, Bach, Tournemire and Langlais
Olivier Messiaen's La Nativité du Seigneur, Colin Walsh
Saturday 8 January 2022, 7pm
Tickets £6
Olivier Messiaen's 1935 masterpiece is considered to be one of the greatest Organ compositions of all time. La Nativité du Seigneur is a Christmas tradition at Lincoln Cathedral and one not to be missed.
For more details about events and to book tickets, please visit our website – www.lincolncathedral.com
Bible Readings
Sunday 11 July
Sixth Sunday after Trinity
Eucharist
Amos 7: 7-15
Ephesians 1: 3-14
Mark 6: 14-29
Evening Prayer
Ecclesiasticus 4: 11-end
Romans 15: 14-29
—–
Sunday 18 July
Seventh Sunday after Trinity
Eucharist
Jeremiah 23: 1-6
Ephesians 2: 11-end
Mark 6: 30-34, 53-end
Evening Prayer
Ecclesiasticus 18: 1-14
Hebrews 2: 5-end
—–
Sunday 25 July
James the Apostle
Eucharist
Jeremiah 45: 1-5
Acts 11: 27- 12:2
Evening Prayer
Jeremiah 26: 1-15
Mark 1: 14-20