I am not sure whether I am typical, but at the moment it feels as if we are in a strange place: there is a feeling that a difficult time might be coming to a close – but an equal worry that the difficulties are not yet over. I think there is some truth to this, especially if we look beyond our own communities to the challenges still being faced by others in nations across the world. I suspect that there is also a challenge for many of us, as we leave the most restricted aspects of lockdown behind us, that we can now release those emotions, worries and fears that we did our best to keep hidden as we faced what seemed to be the most difficult times.  All this points to a reality that we probably face; of seeking to rebalance our lives in a new situation – seeking to hold onto those good things that we may have discovered over the past year or more, and striving to put aside and leave behind those more negative aspects of lockdown life that may continue to hurt and damage us if we do not reconcile ourselves to them.
'Our heart is restless, until it repose in Thee' (Augustine, Confessions)
It was with thoughts like these that I embarked on my first day out beyond the borders of Lincolnshire. In the course of my travels, I found myself reading the introductory passages of Augustine's famous Confessions, where he starts to engage with the basics of Christian faith through his own experiences. One phrase that stuck out to me was one that I have read and prayed many times before – the passage quoted above. It was a salient reminder that all too often we seek to find solutions by ourselves – we fail to allow ourselves to do what we are bidden to do by letting ourselves trust in Christ and find rest in the presence of God.
For me, this serves as a timely reminder that it is not by ourselves that we will find rest – it is not by our own strivings that we will find a true peace. Rather, we have to entrust ourselves to God and, in doing so, entrust ourselves to those who seek God alongside us. After a time when we have often been artificially isolated from others and from each other, we now need to relearn what it is to walk alongside others – how we can support them, and how we need to accept the support they provide us. As we learn these renewed ways of working and learning together, we have fresh opportunities to seek anew ways of living out in our lives the love that we believe flows from God – the love that we find demonstrated on the self-giving of the Cross and the transforming glory of the empty tomb.
'We walk by faith, not by sight' (2 Corinthians 5.7)
If we are to do this, we need to take seriously Paul's exhortation (which we hear in this Sunday's readings) to walk by faith – to trust in others, and not to rely on our own resources; to seek to love in all we do. Of course, as we trust in others, we are led to trusting in the God who sustains us. As Paul indicates, if we are to live life in the fullness that God leads us toward, we cannot do this if our sights are set to close at hand – we need to look beyond what we can see in the immediate, and let ourselves be led into the better places that lie beyond.
NICK BROWN, PRECENTOR
Worship & Mission
Weekly service schedule
The service sheet for the coming fortnight can be viewed on the cathedral website (click link to visit)
Evensong 25 June
Join us as we say thank you to our friends and colleagues who have left the Cathedral during the pandemic.
We will be making a presentation to John Campbell our former Dean's Verger as we have been unable to do this sooner due to the pandemic. Anyone wishing to contribute to the collection for John should pass their contributions to the Vergers Vestry.
Collections
Anyone wishing to contribute to the collections for John Campbell and Rachel Revely should send their contributions to the Vergers' Vestry, Lincoln Cathedral, LN2 1PX by Sunday 20 June.
Community
Cathedral choir
At Evensong on Tuesday 8 June no fewer than nine of our young singers were admitted into new roles in the cathedral choir. Joelle and Lucy were made Burghersh Chanters and Theo, Maribel, Jacob, Aakash, Isabella, Sehren and Frankie received their copes. This was a lovely occasion for them, their families and for the choir as a whole. Many congratulations to all of them and good luck in their new responsibilities in the choir, especially to our new leaders.
The Friends of Lincoln Cathedral
The Cathedral Friends' secretary writes: On Friday 2 July the Friends are intending to have their Annual General Meeting in the new Cathedral visitors' centre at 2pm, to which all members of the association are invited. There are some vacancies on the Friends' Council and nominations are invited from any interested members. Nomination forms have been sent out in the recent mailing and are also available from the Friends' office or by emailing Friends@lincolncathedral.com  We hope that any further restrictions that may be put in place by the government will not impact on the meeting!
Dr Philip Marshall
For those who remember Dr Philip Marshall, Thursday June 24th sees the centenary of his birth.
He came to Lincoln in 1966 from Ripon, took over the Choir here and stayed for 20 years, as Organist and Master of the Choristers. He was a formidable supporter of the liturgy, especially through his nuanced and deeply atmospheric accompaniment of the psalms, which he loved. He was a wonderful raconteur, a lover of his choir, especially the trebles whom he once delighted with the Jaws music, a splendid calligrapher (see his compositions), a cat-lover, and a devotee of steam trains.
He composed, among other things, music for St Hugh, Visions of a King, Christmas music, a grand Centenary Cantata for the Choral Society and many other pieces including a piano concerto.
Thank you Dr Marshall, for all this and much more.
North East transept and Chapter House
Works to the pinnacle on the North East Transept have now finished and the scaffolding will be taken down over the next couple of weeks. At the same time, a three-year restoration and conservation project will begin on the Chapter House. You will notice scaffold being put in place, and to create a safe and secure workspace, part of the East Green will be fenced off. More details about the project, access and fundraising will be shared in future Chapter Letters.
Events
Lunchtime Concert – 'Occasional Cellos'
Saturday 26 June, 1.10pm
There will be a retiring collection all in aid of the Cathedral Music Fund. This is a free event included within the normal Cathedral entry charge
Organ Concert series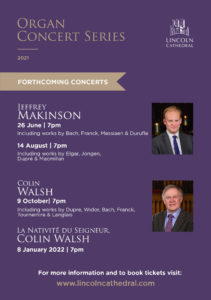 An evening with Lincoln Cathedral Choir in the Cloister
Friday 9 July, 7pm
A fabulous evening of uplifting music within the atmospheric surroundings of the Cloister.
£12
For more details about events and to book tickets, please visit our website – www.lincolncathedral.com
Bible Readings
Sunday 13 June
Second Sunday after Trinity
Eucharist
Ezekiel 17: 22-end
2 Corinthians 5: 6-10 [11-13] 14-17
Mark 4: 26-34
Evening Prayer
Jeremiah 7: 1-16
Romans 9: 14-26
——
Sunday 20 June
Third Sunday after Trinity
Eucharist
Job 38: 1-11
2 Corinthians 6: 1-13
Mark 4: 35-41
Evening Prayer
Jeremiah 10:1-16
Romans 11:25-36
——
Sunday 27 June
Fourth Sunday after Trinity
Eucharist
Wisdom 1: 13-15,
2:23-24
2 Corinthians 8: 7-end
Evening Prayer
Jeremiah 11: 1-14
Romans 13: 1-10