This week we held a moving service in the Cathedral, attended by representatives from the police, the ambulance service, the fire and rescue service and the NHS, as we marked the dedication of the Emergency Services Chapel.
It was an opportunity to give thanks and glory to God as we mark a new and significant moment in our ministry and service at Lincoln Cathedral. It is a great honour to build on our commitment to sacred space and pastoral support of the armed forces and their chapels within this building, as we establish this new chapel dedicated to the emergency services. We believe this is the first of its kind within an English cathedral.
We rejoice in the work of partnership and collaboration that has brought this vision to fruition. In particular, amongst our heritage craftsmen and women here in the building, our former resident artist Toni Watts, our gifted needlework guild and the advisory work through the Masters of the Fabric and architect. This, combined with the vision and inspiration from the police chaplain, Tanya Lord and former chief constable, Bill Skelly, and in consultation with the other emergency services has helped us create a chapel is ready to serve the whole community.
We hope that this special place will be a source of inspiration and comfort, of solace and strength, to all involved in the emergency services. In dark moments, we pray it will be healing space; especially for those who mourn the loss of colleagues and loved ones in the line of duty. May it also be place to give thanks and celebrate achievements and acts of heroism and service, a source of blessing and peace where we can give thanks for God's goodness and abiding presence.
THE VERY REVEREND CHRISTINE WILSON, DEAN OF LINCOLN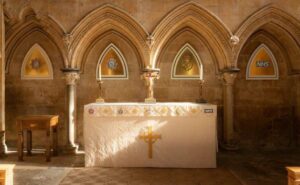 Worship & Mission
Weekly service schedule
The service sheet for the coming fortnight can be viewed on the cathedral website (click link to visit)
Stillpoint
8.40am, 14 November
The Stillpoint silent contemplative prayer meeting takes place monthly. The next meeting is on 14 November, hosted by the Chancellor, 8.40-9.20am, in the Ringers Chapel.
SPECIAL SERVICES IN THE COMING WEEKS
A County Harvest Festival
3pm, Sunday 23 October 2022
Requiem Eucharist for All Souls
7.30pm, Wednesday 2 November 2022
An opportunity to remember those who we love but see no longer, with especial prayers for those lost during the disruptions caused by COVID-19.
Remembrance Sunday: Service of Remembrance
10.40am, Sunday 13 November 2022
Please note: Sung Eucharist will take place at the earlier time of 9 15am.
An Advent Procession
6pm, Saturday 26 November 2022
Readings and music as we prepare to welcome the light of the world, with music sung by the Cathedral Youth Choir with the Lay Vicars of the cathedral choir.
Community
St Hugh's Day, 17 November
On St Hugh's day, our Solemn Eucharist is at 12noon, attended by the Non-Residentiary Canons of the College of St Hugh. Members of the congregation welcome and are also invited to join the College of St Hugh for a Public Lecture at 3pm, entitled 'We're Going Local: Church, Subsidiarity & the Common Good'?, This will be followed by tea together at 4pm, before the Solemn Evensong at 5.30pm. The preacher and lecturer is Rev Simon Cuff, author of 'Love in Action: Catholic Social Teaching for Every Church' (SCM 2019) and 'Priesthood for All Believers: Clericalism and How to Avoid it' (SCM 2022). Fr Simon is Vicar of St Peter's De Beauvoir, London N1, a fellow of The Centre for Theology, and former tutor and lecturer at St Mellitus College.
Community Book Group, 19 November
The Cathedral Community Book Group next meet 10.30am on Saturday 19 November. We will be discussing 'Priesthood for All Believers' by Simon Cuff (SCM 2022). Please buy and read the set book in advance of the discussion. It is available in the Cathedral shop. Revd Simon Cuff will be the preacher and guest lecturer at our St Hugh's Day celebrations, 17 November.
Social Theology Lecture Series: Lecture 4, 18 October 2022, 6.30pm-8pm 
JUST CHURCH? How does Catholic Social Teaching fit into the mission of the Church of England? What is the Anglican legacy for the common good and how might it become a church for England? By Revd Dr Malcolm Brown, the Director of Mission and Public Affairs for the Church of England, and Visiting Professor in Theology and Religious Studies at the University of Winchester. He is the editor of, and an author in, 'Anglican Social Theology: Renewing the Vision Today' (2014).
An opportunity to help us help those in need
The vergers keep a stock of handy items that can be give out to those in need.  If anyone is able to donate items that would be a significant help to this quiet and largely unseen ministry of the cathedral.  Particularly useful items are wipes, toothbrushes and toothpaste, socks, long life snacks, sanitary towels, deodorant, water, personal hygiene items and dog food.  With thanks for your generosity to those in who find themselves in need.
Another opportunity to help those in need
In the weeks running up to the Harvest Festival Service on 23 October, there will be a chest for donations to Lincoln's Community Larder in the cathedral.  Do please be as generous as you are able so that this valuable charity can continue in its vital work with local churches and other community organisations.
Yet another opportunity to help those in need
As part of our Rough Sleepers Action Group, we are planning a 'Warm Rail' where those who need to can find warm items of clothing as the winter approaches. Between 17 and 24 October we will be accepting donations of warm and essential items that anyone may have around their homes they no longer need or use.
The items that we think would be most useful include coats, scarf, sweaters, hats, hoodies, gloves, socks, pants, thermals, both male and female, and female sanitary items (please feel free to bring anything else you may think will benefit). We really appreciate all the support and time many of you give to those who find themselves without somewhere warm to sleep and we hope as a team, we can make this winter more comfortable, even if only for a night or two.
LCCA Autumn 2022 events
Harvest Supper in the Chapter House – last chance to buy tickets. Thursday 20 October, 6.30pm for 7pm
Tickets: £15 (2 course meal & entertainment) available after Sunday Eucharist or by emailing lcca@lincolncathedral.com
Please bring your own choice of drinks and donations of non-perishable foodstuffs will be collected for local food bank.
LCCA AGM in the Chapter House – Monday 14 November, 6.30pm for 7pm. Please email any apologies to lcca@lincolncathedral.com
Tea at 4 Discussion and Bible Study Group
The next 'Tea at 4' discussion and bible study group will meet again on Monday 14 November at 4pm in the Cathedral Café.  All Welcome!
Events
Organ Recital by Darius Battiwalla, Leeds City Organist
Friday 4 November, 7pm
Organ recital by Jeffrey Makinson, Organist at Lincoln Cathedral
Friday 11 November, 7pm
Handel's Messiah
19 November – Lincoln Cathedral Choir return with their performance of Handel's Messiah, a spectacular piece of music which is to be accompanied by Lincolnshire Chamber Orchestra.
Royal Salute Concert
Thursday 24 November, 7.30pm
For full details of events, and to book tickets, please visit https://lincolncathedral.com/forthcoming-events/
Bible Readings
____
Sunday 16 October
Eighteenth Sunday after Trinity
Eucharist
Genesis 32. 22-31
2 Timothy 3. 14- 4.5
Luke 18. 1-8
Evening Prayer
Nehemiah 8. 9-end
John 15. 12-end
—–
Sunday 23 October
Last Sunday after Trinity
Eucharist
Ecclesiasticus 35. 12-17
2 Timothy 4. 6-8, 16-18
Luke 18. 9-14
Evening Prayer
Ecclesiastes 11, 12
2 Timothy 2. 1-7
—–
Sunday 30 October
All Saints Day
Eucharist
Daniel 7. 1-3, 15-18
Ephesians 1. 11-end
Luke 6. 20-31
Evening Prayer
Isaiah 65. 17-end
Hebrews 11. 32-12.2
—–