Rise heart; thy Lord is risen. Sing his praise
Without delays,
Who takes thee by the hand, that thou likewise
With him mayst rise:
That, as his death calcined thee to dust,
His life may make thee gold, and much more just.
George Herbert, 'Easter', from The Temple (1663)
Easter is pre-eminently a time for baptism and confirmation, or for those who are already baptised, it is also an occasion for the renewal of our baptismal covenant. This is seen to be especially true at a cathedral, for the worshipping community gathers with the bishop and begins Easter with a time of vigil. The Easter Vigil service begins with the lighting of a fire, and from it, the lighting of the paschal candle, symbolising Christ our light, and by its light Christ's resurrection is proclaimed.
The Easter Vigil comprises readings, with psalms, canticles, silence and prayer. Today, there are often just five or six readings, though in monasteries and in some churches the vigil can include many more with longer silences and can last many hours through the night, as the community ponders God's purposes in the Bible narratives of 'salvation history'. Among the readings, we recall the Exodus covenant story of God freeing the Hebrew slaves from Egypt through the waters of the Red Sea, and Jesus' passing from death to life. Having heard the gospel of the resurrection, we respond as a church by gathering at the font.
This Vigil movement from the fire (evoked in Herbert's words 'calcined…to dust') to the font, is a slow movement of meditation and reflection, culminating in our rededication and commitment ('that thou likewise / With him mayst rise) which we pray can 'make us gold, and much more just'. Baptism is a transformation, a turning from the dust and ashes that we are (and were reminded of being on Ash Wednesday) into the 'gold' treasured by God that we are invited to become. By baptism we enter into resurrection life.
The claim 'The Lord is risen!' is hollow unless worshippers and members of the churches respond and follow Christ as their light, as their Lord, and commit themselves to live by his prophetic teaching and wisdom. The claim 'The Lord is risen!' refers to the experience of being reborn to new life and living our lives in the light of Christ, which makes real for us the claim of Jesus' resurrection.
If Easter is to bring hope for our broken world, that hope needs to be found in our renewed commitment to work to realise Christ's vision of the just and peaceful reign of God, working with others who also share such a social vision and share in being agents of change. Our commitment to this is expressed as our agreement, 'He is risen indeed, alleluia!'
PAUL OVEREND, CHANCELLOR
Worship & Mission
Weekly service schedule
The service sheet for the coming fortnight can be viewed on the cathedral website (click link to visit)
Forthcoming services:
14 April, Maundy Thursday
7.30pm Eucharist of the Last Supper, Stripping of the Altar and watch of the passion until midnight
15 April, Good Friday
9.30am Liturgy of Good Friday
12 noon Three Hours' Devotion
16 April, Easter Eve
8pm Paschal Vigil with Baptism and Confirmation and First Eucharist of Easter
17 April, Easter Day
7.45am Litany
8am Holy Communion
10.30am Sung Eucharist for Easter Day
12.30pm Holy Communion
3.45pm Festal Evensong for Easter Day
Stillpoint
Meets next on Monday 9 May at 8.40am.
Future dates: 13 June, 11 July
Sacred Space
Sunday 22 May, 7pm
Sacred Space is a gentle and reflective service with time to wonder, the opportunity to use all your senses to explore faith and the chance to experience the unique and serene atmosphere of the Cathedral as the day draws to a close. It is led by the Revd Canon David Dadswell.
Community
Social Theology and the Common Good
Lincoln Cathedral is arranging a series of lectures, four in 2022, and another four in 2023, exploring Catholic Social Teaching and Anglican Social Theology. They will form a part of the Cathedral's civic and social engagement over the coming years.
The lecture series is organised in partnership with Together for the Common Good, Caritas in the Diocese of Nottingham, Bishop Grosseteste University, and Lincoln Theology Network.
The first lecture is on 7th June – "Just Responsibility" – How can social theology help us play our part in spiritual and civic renewal? An Introductory Lecture exploring the purpose of the series, by Jenny Sinclair.
Jenny, daughter of the late bishop David Sheppard, is founder director of Together for the Common Good, which calls and resources people to fulfil their civic vocation by putting common good principles into practice.(https://togetherforthecommongood.co.uk/)
The lecture will be in St Hugh's Choir after choral evensong. Tickets £5, will be available online in May.
Further publicity about the series and small groups will shortly follow.
'To Love and Serve the Lord' Course
This is a 16-session course run by the Diocese of Lincoln for anyone wanting to explore Christian faith or become more confident in what they believe. It also serves as a foundation course for further training as an Authorised Lay Minister.
The course will run on Tuesday evenings, starting on 26 April at 7pm, in All Saints Church Hall, Branston.
Course aims to develop theological reflection on the Christian life and ministry, and provide a theological context to allow participants to link their faith and everyday life.
For more information or to book on to the course, please contact alm2022.lgc@gmail.com
Events
Lincoln Choral Society Presents An Evening Of Elgar
Friday 29 April, 7.30pm
Lincoln Choral Society, conducted by Mark Wilde, are joined by the Lincolnshire Chamber Orchestra to perform in Lincoln Cathedral's stunning Nave.
Throughout the evening the Lincoln Choral Society will perform three pieces from Sir Edward Elgar featuring soloist, Mezzo-Soprano, Catherine Carby.
Suffolk Singers Lunchtime Recital
Saturday 7 May, 1.10pm
Suffolk Singers will be giving a varied recital of anthems and sacred songs sung a cappella and ranging from Early music by Byrd and Weelkes, through works by classical composers such as Mendelssohn, Clara Schumann and Stanford, to modern composers including Tavener, Pärt, MacMillan and Hogan.
The Hunchback of Notre Dame
Monday 23 May – Saturday 4 June
The Starring Lincoln Theatre Company return to Lincoln cathedral with a performance of the well-known Disney adaptation of The Hunchback of Notre Dame.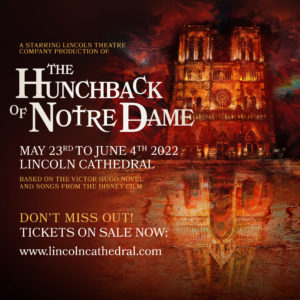 Lincoln Cathedral Flower Festival: Vision
Thursday 4 – Monday 8 August
The Lincoln Cathedral Flower Festival will celebrate 950 years of Lincoln Cathedral, and the visionaries who had the inspiration to build such a wonderful building and those who followed, changing our lives throughout history.
Flower Festival Musical Meander
Friday 5 August
Enjoy a feast for all the senses with the Lincoln Flower Festival Musical Meander – a magical musical accompaniment to the beautiful floral displays in the inspiring surroundings of Lincoln Cathedral.
For full details of events, and to book tickets, please visit https://lincolncathedral.com/forthcoming-events/
Bible Readings
Sunday 17 April
Easter Day
Eucharist
Acts 10.34-43
1 Corinthians 15.19-26
John 20.1-18
Evening Prayer
Isaiah 43. 1-21
1 Corinthians 15. 1-11
—–
Sunday 24 April
Second Sunday of Easter

Eucharist
Acts 5. 27-32
Revelation 1. 4-8
John 20. 19-end
Evening Prayer
Isaiah 52. 13-53
Luke 24. 13-35
—–
Sunday 1 May
Third Sunday of Easter
Eucharist
Acts 9. 1-6 [7-20]
Revelation 1. 4-8
John 20. 19-end
Evening Prayer
Isaiah 38. 9-20
John 11. [17-26] 27-44
—–