This week, I was presented with a gift. It was quite "out of the blue" and a lovely gesture of friendship and appreciation, with a little note that said "thank you for being you."
It was a beautiful mug decorated with dragonflies, which I have always regarded as a symbol of resurrection and joy. Now, every time I use it to make a cup of tea, I find myself smiling and thinking of the grace and generosity it represents. It has a beauty that speaks of much more than just a china mug.
The same day I bumped into a volunteer from the cathedral who never fails to delight in simple things and count her blessings despite enormous adversity. She is always smiling, appreciative and positive. I love meeting her because her smile is infectious.
That morning, I also received a poem through the post written by someone serving a prison sentence. He had received a postcard depicting the cathedral glowing in the evening sunshine. He wrote to tell me what a source of inspiration and blessing it had been and share the poetry that it had evoked.
What a great day! If only every day could be like that.
As I uttered that thought, the response came back in my mind. It starts with each one of us. With taking the trouble to be appreciative, saying thank you, recognising kindness and making the effort to tell someone when they are doing a great job or making a difference.
Like that old Sunday school chorus: "count your blessings name them one by one."
It is so easy to be grumpy. We moan about the weather, the state of politics, climate change, the economy, rail strikes and on and on it goes. Life has been very trying. Often during the lockdowns we were reminded to be kind to one another, which draws my thoughts to that passage from Philippians 4 verse 8.
Finally, beloved, whatever is true, whatever is honourable, whatever is just, whatever is pure, whatever is pleasing, whatever is commendable, if there is any excellence and if there is anything worthy of praise, think about these things.
We can all create days like the one I had last week. It begins with us and who knows what loveliness it might bring to birth in others.
The Very Reverend Christine Wilson, DEAN OF LINCOLN
Worship & Mission
Weekly service schedule
The service sheet for the coming fortnight can be viewed on the cathedral website (click link to visit)
Stillpoint
19 September
The Stillpoint silent contemplative prayer meeting takes place monthly, in the Ringers Chapel. The next meeting is on 19 September, 8.40am-9.20am, hosted by the Revd Anne Mazur, then on 10th October, hosted by the Chancellor.
Community
Interment of ashes of Helen Walker
The ashes of Helen Walker will be interred after evensong on Saturday 3 September.  Many regular worshippers at the Cathedral will remember Helen as a regular worshipper here and for her work in the wider community.  As very few people were able to attend her funeral during lockdown, we hope that this occasion will provide a further opportunity for those who so wish to remember Helen and commend her to God's eternal care.
Season of Creation
Between 1st September and 5th October, Christians around the world will be observing a "Season of Creation", praying and caring for the natural world. For more information, please see www.SeasonOfCreation.org (or in social media the hash tag #SeasonOfCreation).
Season of Creation – Sermon Series
During the Season of Creation, our evensong sermons at 3.45pm are as follows:
04.09.22 #1: 'Making Way in the Wilderness' by The Revd Sherine Angus, Priest in Charge, All Saints, Holbeach. Lincoln Diocesan Environment Advisory Panel member.
18.09.22 #2: 'Soil and Soul', incorporating a conversation with farmer Paul Davey, by The Revd Canon Alan Robson, Lincolnshire Agricultural Chaplain, Ecumenical Canon of Honour; Prebendary of Saint Mary Crackpool. Lincoln Diocesan Environment Advisory Panel member.
25.09.22 #3: 'Creation as Sacrament', by The Rev Canon Andrew Christopher Vaughan, Priest In Charge, Swinderby (Benefice), Prebendary of Langford Ecclesia.
02.10.22 #4: 'Eco Journeying', by The Revd Michelle Webb, Assistant Curate of St Giles Church, Lincoln. Member of Lincolnshire Faith & Environment Group.
(Please note, that The Battle of Britain Service is on 11.09.22, at 3pm. There is no choral evensong with sermon on that day.)
Season of Creation: Community Book Group
The Cathedral Community Book Group is also looking at the climate, discussing Frances Ward's book, Like there's no Tomorrow: Climate Crisis, Eco-Anxiety and God, by (Sacristy Press 2020) on 10th September, in the Learning Centre, accessed off Eastgate, opposite East Bight (a road/close by the Lincoln Hotel), near the Tennyson statue. Please buy and read the set book in advance of the discussion. It is available in the Cathedral shop.
Lincoln Cathedral Common Good Project
Social Theology Lecture Series – Lecture #3
27 September 2022, 6.30-8pm
JUST BEING? On the dignity and divine calling of the human person. Can people be who they truly are in the modern world? By Edward Hadas, who is a Fellow at Blackfriars Hall, Oxford, a freelance journalist and author working on moral economics and finance. His latest book is Counsels of Imperfection: Thinking Through Catholic Social Teaching.
Social Theology Lecture Series: Lecture #4
18 October 2022, 6.30-8pm
JUST CHURCH? How does Catholic Social Teaching fit into the mission of the Church of England? What is the Anglican legacy for the common good and how might it become a church for England? Revd Dr Malcolm Brown, who is the Director of Mission and Public Affairs for the Church of England, and Visiting Professor in Theology and Religious Studies at the University of Winchester. He is author of Anglican Social Theology: Renewing the Vision Today.
Events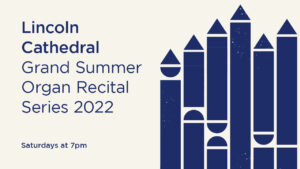 Grand Summer Organ Concert Series
20 August – Tom Bell, Concert Organist
3 September – Colin Walsh – Organist Emeritus, Lincoln Cathedral
10 September – Darius Battiwalla – Leeds City Organist
17 September – Alana Brook – Assistant Organist, Lincoln Cathedral
24 September – Jeffrey Makinson – Organist, Lincoln Cathedral
Pub to Pulpit
8 October
Join Cathedral Choir, Broomdasher and Coracle singing some of our best loved hymns using tunes collected by Vaughan Williams
The Hallé in Lincoln
14 October, 7pm
The Hallé is a Cathedral favourite and is returning this year as part of its 2022–2023 season with conductor, Taavi Oramo.
For full details of events, and to book tickets, please visit https://lincolncathedral.com/forthcoming-events/
Bible Readings
Sunday 21 August
Tenth Sunday after Trinity
Eucharist
Isaiah 58. 9b-14
Hebrews 12. 18-29
Luke 13. 10-17
Evening Prayer
Isaiah 30. 8-21
2 Corinthians 9
—–
Sunday 28 August
Eleventh Sunday after Trinity
Eucharist
Ecclesiasticus 10. 12-18
Hebrews 13.1-8,15,16
Luke 14 1, 7-14
Evening Prayer
Jonah 3. 1-9
Revelation 3. 14-22
—–
Sunday 4 September
Twelfth Sunday after Trinity
Eucharist
Deuteronomy 30. 15-22
Philemon 1-21
Luke 14. 25-33
Evening Prayer
Jonah 3.10 – 4.11
Revelation 8.1-5
—–