Many of the people who visit the Cathedral throughout the year are drawn by a fascination with the building; and even those who may visit for other reasons cannot but pay attention to it. To encounter such a huge space is significant enough but many people must also wonder why it was built as it was. What were the ideas behind constructing not just such a huge building, but a building laid out and decorated as this one is? How, in other words, did people start out with a clean sheet of paper – or parchment – and come up with what we have?
There is, of course, no simple answer to this question, not least because over the centuries the Cathedral, like any ancient building, has changed not only its appearance – the removal of the spires which once stood on the towers being a very obvious example – but also the ways in which people have used it. In the Middle Ages it was primarily a place of pilgrimage to the shrine of St Hugh; but after the Reformation, when pilgrimages were suppressed – at least officially – the Cathedral would have become a very different place. In more recent times the shrine of St Hugh has been restored and we now use the building very differently again to our ancestors two or three hundred years ago.
This isn't something which applies only to the Cathedral; it's equally true of the houses we live in, especially if they are older buildings. The layout of a house, the number of rooms, the way the rooms are used and decorated, change over time. What remains constant is that our houses are still homes, as they have been for all those people who have ever lived in them. In the same way the Cathedral, and all churches, remain places of worship where the name of God is honoured and the age-old stories of God's actions in the world continue to be told and retold. We are a part of the People of God through history because we, like our forebears, listen to the ancient stories, celebrate the sacraments, pray for the life of the world and try to live out our faith in it. But we aren't identical to our forebears in what that faith means in our time because our age is different to theirs. The buildings in which we worship remind us not only of the Christian past but also that we, like our forebears, are called upon to respond to the challenges of our own time as they responded to the challenges of theirs.
In recent times there has been a tendency to regard our buildings as burdens from the past which weigh down the church in the present and hamper its mission. Yet the buildings we inherit remind us of the faith and devotion of past generations of Christians who built both small parish churches and great cathedrals to be signs and beacons of the Christian faith. We need to be thankful for their dedication and seek to allow our churches to speak afresh in the present to our own times.
NEIL BURGESS, VICE CHANCELLOR
Worship & Mission
Weekly service schedule
The service sheet for the coming fortnight can be viewed on the cathedral website (click link to visit)
Sacred Space
The next Sacred Space service will take place on Sunday 19 September. More details to follow in the next Chapter Letter
Sunday School
Sunday School will resume on Sunday 5 September during the 10am Eucharist.
Community
Cathedral Youth Choir
In September this year, Lincoln Cathedral will be launching a new youth choir.
It is suitable for school students Years 10-13, students or non-students aged 18-21 and is open to all voices parts, male and female, by audition.
To find out more, please contact Aric Prentice – aric.prentice@lincolncathedral.com or 01522 561651
Artist of the Year
Saturday 4 September, 10am
Whatever your chosen style or medium, we want to see your take on a Cathedral view. Join us in the inspirational setting of Lincoln Cathedral and its grounds to take part in our first ever art competition. The winning artwork will be displayed in the new visitor centre for a year.
Artists will have until 2pm to complete their images and the submissions will be judged by Lincolnshire artist Dominic Parczuk and The Revd Christine Wilson, Dean of Lincoln.
For more details, and to register your place, visit https://lincolncathedral.com/forthcoming-events/cathedral-artist-of-the-year/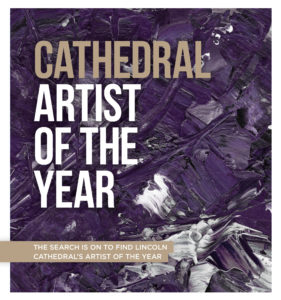 Events
Music on the Dean's Green
Friday 3 September. 6.30pm
Tickets £25, including a drink and canapés reception.
The Lincoln Cathedral Music Council invites you to 'Music on the Dean's Green'.
Enjoy a sparkling reception with delicious canapes before settling in for an evening of beautiful music performed by Lincoln Cathedral Choir in the tranquil surroundings of the Dean's Green.
Conducted by Director of Music, Aric Prentice and accompanied by Assistant Director of Music, Jeffrey Makinson, the choir will perform a selection of classics; perfect for a late summer's evening.
Script in Hand presents: Women of the Cathedral: a sequence of voices by Margaret Crompton
Wednesday 22 September 1pm-2pm
Admission is included with the Cathedral entry charge
The Cathedral is full of silent women. In stained-glass windows and tombs, behind monuments and under slabs, in statues and carvings, paintings, books and dedications. As I began to listen to them, I found their voices in poems, the often-overlooked women of the Cathedral. Now, through these poems, those voices can be heard in the Chapter House.
In Bethany, Martha and Mary reflect on the return of their brother Lazarus, but who are Hannah and Sarah, and what links Veronica with a tree? Mrs Tweed grieves, Anne Askew reads the Bible illegally, and Mary meets an Archangel. Here are a dancing child and a peaceful poet, a faithful dog and a companioning swan. A queen, a duchess and a countess leave their tombs in search of company, while altos sing of triumph and of hope.
Script-in-Hand performs staged-readings of original plays – with script-in-hand.  In July 2021, we presented Anne Askew in the Chapter House. Women of the Cathedral is our first programme of poems, developed especially for the Chapter House. Like listening to a radio play, we ask you to use your imagination and join us in the time-out-of-time which is poetry and drama.
Retiring collection for Cathedral Library Fund
Organ Recital – Colin Walsh
Saturday 9 October, 7pm
Tickets £6
The programme for the evening includes Dupré, Bach, Tournemire and Langlais
Olivier Messiaen's La Nativité du Seigneur, Colin Walsh
Saturday 8 January 2022, 7pm
Tickets £6
Olivier Messiaen's 1935 masterpiece is considered to be one of the greatest Organ compositions of all time. La Nativité du Seigneur is a Christmas tradition at Lincoln Cathedral and one not to be missed.
For more details about events and to book tickets, please visit our website – www.lincolncathedral.com
Bible Readings
Sunday 22 August
Twelfth Sunday after Trinity
Eucharist
Joshua 24: 1-2a, 14-18
Ephesians 6: 10-20
John 6: 56-69
Evening Prayer
Exodus 4: 27-5.1
Hebrews 13: 16-21
—–
Sunday 29 August
Thirteenth Sunday after Trinity
Eucharist
Deuteronomy 4: 1-2, 6-9
James 1: 17-end
Mark 7: 1-8, 14, 15, 21-30
Evening Prayer
Exodus 12: 21-27
Matthew 4: 23-5: 20
—–
Sunday 5 September
Fourteenth Sunday after Trinity
Eucharist
Isaiah 35: 4-7a
James 2: 1-10 [11-13] 14-17
Mark 7: 24-end
Evening Prayer
Exodus 14: 5-end
Matthew 6: 1-18