About twenty years ago, when I worked as a freelance theological teacher, I was asked to teach a module on world religions. This was a very interesting and broadening experience for me, since my own initial theological study had happened at a time when the curriculum centred almost exclusively on Christianity. Looking at the world's major religions – Judaism, Christianity, Islam, Hinduism, Buddhism and Sikhism – presented not only a sense of the diversity of religious beliefs and practices, but also some marked similarities between them – points of convergence, if you like.
One of the key points of convergence is that all the great religions include as one of their basic teachings "treat others as you would wish them to treat you", sometimes referred to as "the Golden Rule". Put into a non-religious context, this is a view which many people who profess no religious belief at all would also uphold; it's the principle of altruism, a conscious prioritising of other people's interests above one's own immediate interests. It's the principle which underlies all sorts of actions; giving to charity, volunteering and public service, as well as innumerable small acts of consideration and kindness to others. It's also a virtue which, in the troubled times in which we live, is one of literally life-and-death importance.
It's worth asking why altruism might be a religious value, even when people who claim no religion also attempt to practice it. One reason might be that although everyone is capable of occasional altruistic actions, for it to become a regular part of daily life requires the cultivation of a habit of altruism. It also requires ability to reflect on our actions and be self-aware. Neither of these come naturally to people; they need to be worked upon and developed, which requires a measure of determination and commitment. It's easy enough to be altruistic if the cost to ourselves is slight, but if it requires genuine self-sacrifice, it needs a conscious effort of will to achieve. Much religious practice involves the cultivation of habits of virtue, reflection and self-awareness, so the desire to put the interests of others above our own falls naturally into this pattern.
Religious belief can inform altruism because all religions take seriously the imperfection of human beings. This is a recognition that we often fail to be the kinds of people that in our best moments we would like to be. Altruism can be looked upon as a lubrication of our human interactions; when we find getting on with others difficult – as we inevitably do – the discipline of putting others first can ease the situation and allow us to find a good outcome.
The third reason for the religious value of altruism is the belief in God's generosity – however we picture God to be. Through altruism we reflect God's nature God, who is the embodiment of generosity and the willingness to give freely to others without expectation of anything in return. To be generous is to be as God is; and thereby to draw closer to God, which is one of the great goals of faith of any kind.
NEIL BURGESS, VICE-CHANCELLOR
Worship & Mission
Weekly service schedule
The service sheet for the coming fortnight can be viewed on the cathedral website (click link to visit)
Upcoming special services over the next couple of months:
25th July, 10am
Solemn Eucharist for the Feast of James the Apostle, including organ music and the plainsong propers for the feast.  This will also mark Colin Walsh's time as Organist Laureate and appointment as Organist Emeritus.
14th August, 5.30pm
Choral Evensong with Lincoln Cathedral Consort
15th August, 10am
Solemn Eucharist for the Feast of the Blessed Virgin Mary
15th August, 3.45pm
Festal Evensong for the Feast of the Blessed Virgin Mary
Community
Keeping the Cathedral a safe place for all to enjoy
As we seek to keep the Cathedral as a place of prayer, worship and sanctuary where all feel safe and comfortable, we hope that everyone will understand that we are maintaining a number of measures in place to make sure that all those visiting and worshipping at the cathedral can grow in confidence as they do so.
This means that we are asking people to continue to wear face-coverings in the building, be sensitive to those who wish to have some space around them, and to complete Track-and-Trace information as requested.
Alongside this, we will gradually be resuming congregational singing in our worship, and hope that as we look forward to the new choir term beginning in September we can return to using St Hugh's Choir more regularly for evening services.  We will review the measures that we have in place before the beginning of September, and again before the October half-term break.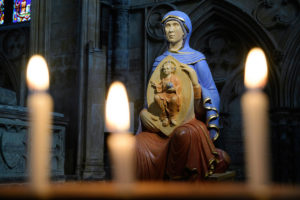 Cathedral Youth Choir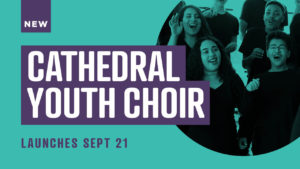 In September this year, Lincoln Cathedral will be launching a new youth choir.
It is suitable for school students Years 10-13, students or non-students aged 18-21 and is open to all voices parts, male and female, by audition.
To find out more, please contact Aric Prentice – aric.prentice@lincolncathedral.com or 01522 561651
Events
Script in Hand- Anne Askew a woman of courage
Wednesday 28 July, 1pm
Anne Askew read the Bible illegally in Lincoln Cathedral. In 1546, caught up in a conspiracy against Queen Katherine Parr, she was burnt as a heretic. Whilst in prison, she wrote accounts of her interrogations, including torture. The manuscript was smuggled out of England for publication by exiled priest Dr John Bale. The Wren Library, Lincoln Cathedral, holds a first edition.
This performance is a special adaptation for the Chapter House. It offers insights into the life of a courageous Lincolnshire woman and of the Cathedral.
Entry included with your Cathedral entry ticket. There will be a retiring collection for Lincoln Cathedral Music Fund.
For more information please visit:
https://lincolncathedral.com/forthcoming-events/script-in-hand-anne-askew-a-woman-of-courage/
Organ Recital – Jeffrey Makinson
Saturday 14 August, 7pm
Tickets £6
The programme for the evening will include music from Elgar, Jongen, Dupré and Macmillan
Organ Recital – Colin Walsh
Saturday 9 October, 7pm
Tickets £6
The programme for the evening includes Dupré, Bach, Tournemire and Langlais
Olivier Messiaen's La Nativité du Seigneur, Colin Walsh
Saturday 8 January 2022, 7pm
Tickets £6
Olivier Messiaen's 1935 masterpiece is considered to be one of the greatest Organ compositions of all time. La Nativité du Seigneur is a Christmas tradition at Lincoln Cathedral and one not to be missed.
For more details about events and to book tickets, please visit our website – www.lincolncathedral.com
Bible Readings
Sunday 25 July
James the Apostle
Eucharist
Jeremiah 45: 1-5
Acts 11: 27- 12:2
Evening Prayer
Jeremiah 26: 1-15
Mark 1: 14-20
—–
Sunday 1 August
Ninth Sunday after Trinity
Eucharist
Exodus 16: 2-4, 9-15
Ephesians 4: 1-16
John 6: 24-35
Evening Prayer
Ecclesiasticus 42: 15-end
Hebrews 11: 17-31
—–
Sunday 8 August
Tenth Sunday after Trinity
Eucharist
1 Kings 19: 4-8
Ephesians 4: 25- 5:2
John 6: 35, 41-51
Evening Prayer
Ecclesiasticus 43: 13-end
Hebrews 12: 1-17