Ordinary Time
Since Ash Wednesday (March 2, 2022), churches have kept Lent, Passiontide (including Holy Week), Eastertide, Ascension, Pentecost and Trinity Sunday. This letter is the first to be written in what is known as 'ordinary time' for a long time.
Many common uses of the term ordinary might suggest that something was not exceptional or well rated, and perhaps underachieving. An ordinary soap or cleaning product would be a cheap brand rather than a premium product. The desired rating for a concert performance or a school assessment, for example, would be exceptional or outstanding, far from ordinary.
The impression might be left from this common usage, that 'ordinary' Sundays of the year are nothing special, and might perhaps be a disappointment, barely worth attending worship for. But this is not how the church uses the phrase ordinary time.
The church's use of the word ordinary is ascribed to the Latin phrase 'tempus ordinarium' meaning 'measured time', counted by the ordinal numerals (e.g., first, second, third, etc.) ordering the weeks for the bible lessons (lections) through the 'Season of the Year' (Tempus per annum).
The gospel readings of the lectionary in this time focus on Jesus' life, his teaching and prophetic ministry, and his healing of people from isolating illnesses and from their social estrangement. Thus 'ordinary time' then is opportunity to explore how to live faithfully and how to live well, walking in the footsteps of Jesus in ordinary or everyday life.
Perhaps a helpful association here is the word mundane, which is also commonly used, rather like the word ordinary, to mean commonplace, everyday, humdrum and unexceptional. This term also needs reclaiming, for etymologically the word mundane relates to worldly matters (received via the French 'mondain' from Latin 'mundus', world).
This 'ordinary season' is time to attend to worldly matters, to find God in the everyday of our ordinary and mundane affairs. We have time focus on engaging with the challenge of how we should follow Jesus in living faithfully in the opportunities and social situations of everyday life. And yet here, in our ordinary mundane commitments of discipleship, is opportunity to encounter the divine. This is expressed well in a hymn by John Keeble, 'New every morning is the love' (NEH238), in which the fourth verse reads,
The trivial round, the common task
will furnish all we need to ask,
room to deny ourselves, a road
to bring us daily nearer God.
The Lincoln Cathedral Common Good Project lecture series on social theology, which began well earlier this month, is one way in which the Cathedral is helping people to live their Christian spirituality practically in the everyday engagements of life in family life, in communities and places of work, in civic and political participation. I encourage you to join us for the next lecture by Maurice Glasman, which begins either with or following evensong on July 12th. Details can be found at lincolncathedral.com/education-learning/lincoln-cathedral-common-good-project, where the first lecture is available to watch, listen to or read.
DR PAUL OVEREND, CHANCELLOR
Worship & Mission
Weekly service schedule
The service sheet for the coming fortnight can be viewed on the cathedral website (click link to visit)
Ordinations
Sunday 26 June, 10.30am
The principal Eucharist on the second Sunday after Trinity will be a diocesan ordination service, for the Petertide ordination of deacons. Please note that this is at 10.30am in Nave.
We congratulate and pray for those who are being ordained, and pray for the communities they will serve and with whom they will share in ministry.
This Petertide is also a significant anniversary of ordination for the Dean, who 25 years in Ordained ministry celebrates her silver jubilee, and also for the Chancellor, who will have been in holy orders for 30 years.
Stillpoint
11 July, 8.40am
"In God alone my soul in stillness waits" (Ps 62.1)
Stillpoint is a silent contemplative prayer meeting, which takes place monthly, usually in the Ringers Chapel. The next meeting is on July 11 between 8.40am and 9.20am, hosted by the Chancellor, and thereafter on August 8 (by the Chancellor) and September 19 (by Rev Anne Mazur).
Community
Lecture by Maurice Glasman
12 July
The second of Lincoln Cathedral's Social Theology series, Maurice Glasman's lecture is "Just Voting?" A lecture about political participation and civic life. The lecture will be in St Hugh's Choir at 6.30pm, following choral evensong at 5.30pm. Tickets costing £5, are available online, or can be paid for at the event by cash or by using the donation points.
Bible and Bagels
13 July, 7.30pm
Lincoln Council for Christians and Jews is hosting an evening with John Wilford and Nathan Gordon to discuss factionalism and factions in Judaism and Christianity at Our Lady of Lincoln, Carbourne Avenue.
Everyday Faith
Everyday faith is an initiative of the Church of England, providing digital resources for finding and following God in everyday life, to support and encourage our Christian faith and discipleship. Please register to explore resources of the portal at https://www.churchofengland.org/our-faith/everyday-faith
Cathedral Community Book Group
16 July
The Chancellor is hosting a Cathedral Community Book Group for members of the congregations, looking at issues of Christian theology, life and spirituality. Meetings will be on alternate months, usually at 10.30-11.30 on Saturday mornings. The book group will meet in the Learning Centre, off Eastgate (a little left of the blue front door through the wooden gate). You are invited to any meeting to discuss a book, without further commitment, but please buy and read the book, in advance of the meeting.
16th July, Being Human, by Rowan Williams (SPCK 2018)
10th September, Like there's no Tomorrow, by Frances Ward (Sacristy Press 2020)
Summer Bible Study – 1 Peter
The Chancellor is leading a bible study on 1 Peter in the Wednesdays of August at 4.00-5.00pm in the Wickham Reading Room. This will be using a Lambeth study guide, 'The First Letter of Peter: A Global Commentary' by Jennifer Strawbridge, which is published by SCM and is for sale at £14.99 per copy in the cathedral bookshop. We shall meet in the Wickham Reading Room.
Jane Wells-Cole
On Friday 10 June 2022. Jane Wells-Cole passed away peacefully at her home. Jane worked in the Cathedral Centre where she made many friends, and we hold both Jane and all who mourn her passing in our prayers. Her funeral will be held on 30 June at 10.15am, at St Michael's Church, Hackthorn near where she grew up.
Carol Hill writes:
Many thanks to you all for your prayers, phone calls, cards and emails following Paul's hospital stay to replace a hip joint. We very much appreciate your love and concern. We are happy to report that Paul is now off his crutches and walking well just with a stick He was pleased to be able to sing in the choir last Thursday to celebrate the Feast of Corpus Christi.
Events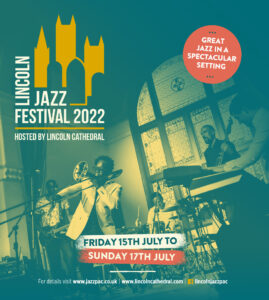 Lincoln Mystery Plays
24-30 July
Taking you on a journey from Creation through to Redemption, the historic telling of familiar Bible episodes has a striking resonance with circumstances today as it explores truth, lies and power and ultimately what it means to be human.

Lincoln Cathedral Flower Festival: Vision
Thursday 4 – Monday 8 August
The Lincoln Cathedral Flower Festival will celebrate 950 years of Lincoln Cathedral, and the visionaries who had the inspiration to build such a wonderful building and those who followed, changing our lives throughout history.
Flower Festival Musical Meander
Friday 5 August
Enjoy a feast for all the senses with the Lincoln Flower Festival Musical Meander – a magical musical accompaniment to the beautiful floral displays in the inspiring surroundings of Lincoln Cathedral.
For full details of events, and to book tickets, please visit https://lincolncathedral.com/forthcoming-events/
Bible Readings
Sunday 26 June
Trinity Sunday
Eucharist
1 Kings 19. 5-16, 19-end
Galatians 5. 1, 13-25
Luke 9. 51-end
Evening Prayer
Genesis 27. 1-40
Mark 6. 1-6
—–
Sunday 3 July
Thomas the Apostle
Eucharist
Habakkuk 2. 1-4
Ephesians 2. 19-end
John 20. 24-29
Evening Prayer
Job 42. 1-6
1 Peter 1. 3-12
—–
Sunday 10 July
Fourth Sunday after Trinity
Eucharist
Deuteronomy 30. 9-14
Colossians 1. 1-14
Luke 10.25-37
Evening Prayer
Genesis 32. 9-30
Mark 7. 1-23