This is my final Sunday here at the Cathedral before I head off to Ipswich. The first time I ever came to Lincoln Cathedral was as part of a visiting choir, that I ran, to sing at the patronal festival in August. Little did I know, only five years later would be serving here as curate and would be ordained priest within this sacred space.
I came here as a singing pilgrim and through the beauty of this place and my experience of its liturgy I was inspired to continue the path God had put in front of me. I became a priest within these walls and although I am still being formed so much of what I have learnt has come from you
I would like to thank all my colleagues in the ministry team, for their advice and all I have learnt from them. In particular, I would like to thank Dean Christine. Amongst many other things, you have taught me so much about priesthood, courage, kindness and that someone like me really can be a priest – for that I am ever grateful.
To all who exercise so many lay ministries, you have been inspirational and from you all I have learnt such a lot about following Jesus and welcoming the stranger.
The staff who work tirelessly in the running of this place are amazing and such a wonderful asset to this community. You have all taught me about teamwork, creativity and the importance of laughter over a cup of tea or madly putting the finishing touches to an event.
In my time here, I have seen much I hope the community is proud of, amazing hospitality and welcome; cherishing our heritage; growth in faith; rejoicing in our music; wonderful events; the development of the new visitor centre and people following Jesus and their own calling and vocation in many different ways.
My three years here has not always been straightforward especially in Covid times but as I leave, I would like to thank everyone who has contributed to my formation and my growth as a priest, I leave Lincoln with lots of happy memories and laughter. I have been privileged to get to know many here and even to have made long-standing friendships over the last three years.
I will miss so many things. I have always found evensong so spiritually nourishing, the moments of holiness that are captured within a glorious soundscape created by our wonderful choir. I will miss being able to explore how my art is able to serve the church though I will continue using it. Though maybe I'll admit that making an angel out of chicken wire might not have been the easiest choice (sharp and difficult to mould!) Most of all I will miss preaching and presiding here.
Worshipping in a beautiful cathedral with music and liturgy of such a high quality has been an incredible privilege for which I will always be thankful. One of the anthems that has really struck me here is William Byrd's Civitas Sancti Tui. The text is of desolation, but the music is rich and full with interweaving polyphony that draws the listener into the presence of God. It would seem to stand in opposition that desolation should feel so rich and hopeful, but I think this tells us something about our experience over the last year.
In the past year, we have experienced so much loss and emptiness but in this cathedral community and building I have always found the fullness and richness of the living God who is always faithful to us. My hope for the cathedral and for the parish to which I go is that we discover more of that life as we come out of lockdown, more of the freedom and love we have in Christ, more justice, more joy and more peace. Please pray for me and the community of St Thomas' as I will continue to pray for you all and the life of this glorious Cathedral Church.
RACHEL REVELY, CURATE
Worship & Mission
Weekly service schedule
The service sheet for the coming fortnight can be viewed on the cathedral website (click link to visit)
Upcoming special services over the next couple of months:
8th July, 5.30pm
Choral Evensong, attended by the High Sheriff, Her Majesty's Judge and members of the legal profession.
11th July, 3.45pm
Choral Evensong with 'reading out' of choristers, and marking the end of the choir term.
25th July, 10am
Solemn Eucharist for the Feast of James the Apostle, including organ music and the plainsong propers for the feast.  This will also mark Colin Walsh's time as Organist Laureate and appointment as Organist Emeritus.
15th August, 10am
Solemn Eucharist for the Feast of the Blessed Virgin Mary
15th August, 3.45pm
Festal Evensong for the Feast of the Blessed Virgin Mary
Community
Cathedral shop and Café
On Monday 28 June Lincoln Cathedral Shop and Café open in the new visitor centre. Set in the historic Old Deanery, and overlooking the newly landscaped Dean's Green, Lincoln Cathedral Café has delicious food and drinks, bright modern interiors and a wonderfully welcoming atmosphere. The menu features a range of tempting items from light lunches to indulgent cream teas (which are sure to become a firm favourite.)
Lincoln Cathedral shop has long been popular with visitors, but now with a contemporary new space in the visitor centre, a stunning boutique look and entrance direct from the Dean's Green, it is hoped that more people than ever will be able to discover the array of unusual and appealing gifts within. Several new product lines will be unveiled on launch day including unique Lincoln Cathedral branded beers from the local Ferry Ales Brewery and a stunning bespoke range of Sophie Allport items created exclusively for the Cathedral.
The café will be open daily from 9am to 5pm and the shop will be open from 9.30am to 5pm Monday to Saturday, and from 10am to 4pm on Sundays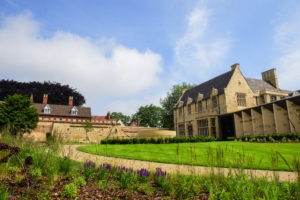 Collections
Colin Walsh will be sadly leaving the Cathedral on 31 July. A card and collection will be available in the Vergers Vestry from 5 July.
Chapter House
As mentioned in the previous issue, urgently needed work will soon be starting on the Chapter House.
Delivered by our own highly skilled works department, the programme of works will take three years to complete, at a cost of £1.3m to be funded by the Cathedral's limited reserves and a fundraising appeal.
The first phase of conservation works will include external masonry cleaning and repointing; replacing the finely cut stones and the research and replacement of the carved embellishment around the parapet and upper orders. The works will also involve structural repairs to the five pinnacles using re-carved limestone from our quarry, as well as glazing cleaning and remediation works.
Further details of the fundraising appeal will be included in future Chapter Letters.
Events
For more details about events and to book tickets, please visit our website – www.lincolncathedral.com
Bible Readings

Sunday 27 June
Fourth Sunday after Trinity
Eucharist
Wisdom 1: 13-15, 2:23-24
2 Corinthians 8: 7-end
Evening Prayer
Jeremiah 11: 1-14
Romans 13: 1-10
—–
Sunday 4 July
Fifth Sunday after Trinity
Eucharist
Ezekiel 2: 1-5
2 Corinthians 12: 2-10
Mark 6: 1-13
Evening Prayer
Jeremiah 20: 1-11a
Romans 14: 1-17
—–
Sunday 11 July
Sixth Sunday after Trinity
Eucharist
Amos 7: 7-15
Ephesians 1: 3-14
Mark 6: 14-29
Evening Prayer
Ecclesiasticus 4: 11-end
Romans 15: 14-29