On Thursday 2 February The Very Revd Christine Wilson, will preach at the service of solemn evensong for Candlemas; her last service at Lincoln Cathedral as she retires after 26 years of ordained ministry.
Having experienced, in her own words, "a strong sense of calling that wouldn't go away", Christine Wilson was ordained in 1997 in Chichester Diocese. Public opinion was still very polarised on the ordination of female priests – the first having taken place only three years earlier – but the challenges and obstacles she faced only served to strengthen her sense of vocation.
In 2010, Christine became the first female Archdeacon of Chesterfield in the Diocese of Derby, during which time she developed and implemented a reorganisation of the Deaneries, to ensure future sustainability. She credits the success of the potentially challenging project, which saw the number of Deaneries reduced from 16 to 8, to the fact that it was a consultative process with the stakeholders literally given the pen to re-draw the map.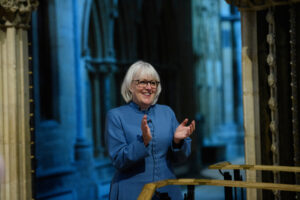 Managing and supporting change has remained a theme of her ministry. The Venerable Aly Buxton, Archdeacon of Stow and Lindsey said, "Christine has been a great support as a consultant for me as we have navigated the Diocese of Lincoln's vision of 'A Time to Change Together'. I have benefitted from her clarity of thought and experience. I wish Dean Christine a fulfilled and blessed retirement."
Following her time in Derby, in May 2016, Christine was installed as the Dean of Lincoln – again the first woman to hold the title. Jasmit Kaur Phull JP, Sheriff of Lincoln recalls attending the event with her husband Dr Jaswant Singh Phull. "I was so proud of our new Dean Christine, a woman of courage and humility who formed a bond of friendship on the first day we met at the Cathedral.  Her remarkable qualities of kindness and strength touched our hearts and we shall always treasure Dean Christine's friendship.  Her massive contribution to Lincoln Cathedral and the community in Lincoln will be remembered for many years to come and we thank her for support to all Faiths.
"We know that strong women aren't simply born, they are made by the storms they walk through.  We know that Dean Christine can handle anything that comes her way, making the sun shine even on the darkest day.  A true legend whom we will never forget.  Today a tear in each eye represents a tear of joy – for Dean Christine's friendship – and tear of sadness for she will be missed more than words can express."
Her time at Lincoln Cathedral has not been without challenges, but the daily life of prayer and worship has sustained her throughout, and the Cathedral has made its mark on Christine; she has particularly grown to love the restorative properties of choral evensong and is already planning where she will seek out the experience during her retirement.
Working in the Cathedral has also fostered an unexpected love of archaeology, history and conservation as she has witnessed the teams she leads use their skills and expertise to maintain Lincoln Cathedral for future generations to enjoy. The most recent work to be completed was the conservation of the West Front which includes the internationally important Romanesque Frieze and Gallery of Kings.
Tim Strawson, High Sheriff of Lincolnshire said, "Christine is a great asset to Lincoln Cathedral. She has been business-like and efficient, executing positive changes and procedures and I am sure leaves the Cathedral in a much better place. But on a personal basis I really admire Christine's ability to make people feel so welcome and at home in the Cathedral. She has always delivered her sermons and speeches eloquently, in a relaxed, warm and compassionate manner. I will be very sorry to see her go."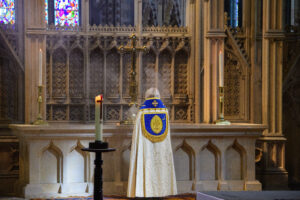 Throughout her career Christine has pursued an agenda of social justice, championing the common good and raising awareness of the social impact of modern slavery and homelessness. Caroline Killeavy, CEO YMCA Lincolnshire said, "In her six-and-a-half years at Lincoln Cathedral Dean Christine has been an outspoken advocate for those most vulnerable in our community. Her thorough understanding of the social issues behind poverty, homelessness and disadvantage means she has deep empathy and compassion for those struggling with these issues in their lives.
"Christine has championed initiatives aiming to eliminate modern slavery and homelessness. Through spiritual leadership and practical support offered to those who have fallen on hard times, she has helped many vulnerable people in need. YMCA Lincolnshire will miss Dean Christine – an outstanding community leader who led with dignity through challenging times."
A strategic thinker, part of Christine's role at Lincoln Cathedral has been to help develop and strengthen the governance of the organisation, something which made an impact on Neil Rhodes, former chief constable and current chair of the Cathedral's Audit and Risk Committee, who reflects on the progress the Cathedral has made under her tenure.
"As a former chief constable, I saw the quality of relationships she built in her early days with many key individuals in the community.  As chair of the Cathedral's Audit Committee and a member of the Finance Committee, I have seen massive strides made in the professionalisation of the Cathedral's senior team, support team, financial and organisational management leading to the ability of the Cathedral to move swiftly and smoothly towards charitable status in the past year.  Personal warmth and a strong work ethos were always evident and necessary as an organisation with long held and cherished traditions and ways of working was shaped, not without challenges, into a modern team, ready to face the future."
One of the most recent projects that Dean Christine has helped to bring to fruition at the Cathedral has been the dedication of the Emergency Services Chapel in late 2022. The only chapel of its kind in the country dedicated to Police, Fire and Rescue, Ambulance Service and NHS – it recognises the dedication of all key workers during the covid pandemic and beyond, and is a place for all to come and give thanks for those who serve their communities in this way.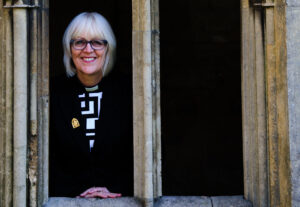 Neil Rhodes adds "Dean Christine's leadership was particularly evident during the testing times we all faced during the Covid 19 pandemic, amongst other initiatives taking the innovative step of broadcasting Cathedral services over the internet to a welcome and receptive new audience.  Despite the major hurdles the pandemic posed, the Cathedral was able to reopen to the community, deliver impressive and creative productions in the sacred space such as the Hunchback of Notre-Dame and also to oversee the delivery of new visitor facilities with the National Lottery funded redevelopment of former school premises into a café, exhibition space and meeting rooms.
"As the Dean heads into her well-deserved retirement, we wish her every happiness. We're grateful for the legacy that she leaves us with, and sure that she will continue to flourish.  Thank you for a job well done and the very best of luck for the future!"
The Right Revd Stephen Conway, Bishop of Ely, Acting Bishop of Lincoln wrote an open letter to mark the Dean's retirement. In it he said, "I have had the privilege to participate in celebrations of the Eucharist and in the Divine Office where Dean Christine has presided, led prayers or preached. I have been struck by her grace, recollection and focus. She has modelled spiritual leadership of the community."
Bishop Stephen's full letter can be read on the website of the Diocese of Lincoln – https://www.lincoln.anglican.org/news/the-retirement-of-the-dean-of-lincoln-the-very-reverend-christine-wilson