After thirty-three years of service to Lincoln Cathedral, the Organist Laureate, Colin Walsh, will be leaving his current role to pursue other musical interests.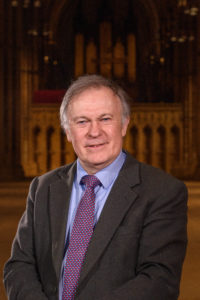 Dr Walsh came to Lincoln from Salisbury Cathedral via St Albans Cathedral in 1988; his reputation as a choir-trainer and interpreter of French organ music already established. He led Lincoln Cathedral's music as Organist and Master of the Choristers at a time of limited funds and some discord within the cathedral and in spite of these difficulties this was a fruitful time for the music. Several fine organ CDs and choir CDs were made, a choir of girls was founded and a stream of invited international organists played to large numbers. To mark the centenary of the Willis organ in 1998 the organ was given a complete overhaul. The annual performances of Bach's St John Passion and Britten's Ceremony of Carols were established.
The year 2003 saw Colin relinquish his leadership of the choir to invest more time in his organ playing and teaching. The years that followed saw concert tours to Australasia, Hong Kong, Moscow and most of the European countries. He started teaching in Cambridge and several of his former students are now working in cathedrals. In the midst of all this activity he was able to play for several services each week in Lincoln Cathedral.
Invitations to play in Lincoln continued to be extended to international players and the annual Organ Extravaganza was born. An honorary Doctorate from the University of Lincoln was conferred in 2013 in recognition of his outstanding contribution to the music of the cathedral and elsewhere.
Colin will not be leaving Lincoln completely; he will shortly accept the honour and title of Organist Emeritus of Lincoln Cathedral, and we shall continue to be thrilled, moved and inspired by his extraordinary gifts in services and concerts from time to time.
On announcing his departure from Lincoln, Colin Walsh, said: "It has been a great privilege and pleasure to serve the musical and liturgical life of the cathedral for many years. I now look forward to some new challenges in addition to continuing my association with the cathedral."
The Dean of Lincoln, the Very Revd Christine Wilson, said: "Dr Colin Walsh has brought the sheer genius of his considerable talents to enrich our worship and liturgy, describing every emotion of joy and delight, melancholy and sadness, wonder and devotion. Throughout his long and outstanding career at Lincoln Cathedral he has both inspired and entertained, bringing his great passion to his work alongside some wonderful moments of musical mischief. I am delighted that he will be retaining his links with us and the Father Willis organ as Organist Emeritus."
The Director of Music, Mr Aric Prentice, said: "It has been a pleasure to work with Dr Colin Walsh for the last almost twenty years. His outstanding musicianship, his great wealth of experience and his sense of humour have all made him a superb colleague and it has been very good fun to work alongside him. Colin delights worshippers and audiences every day with his invention and fresh approach to accompaniments, psalms and hymns – as well as his mastery of a large repertoire of voluntaries and concert pieces. We all wish him well for a long and happy retirement from his regular duties and look forward to seeing and hearing him as he becomes Organist Emeritus, a well-deserved honour."
Colin will finish his role as Organist Laureate at the end of July 2021.