Royalty Exhibition to mark the Queen's Jubilee
2022 marks the Platinum Jubilee of Queen Elizabeth II.  70 years ago, on the 6th February 1952, on the death of her father King George VI, Elizabeth became Queen.
Although we are unable to celebrate the jubilee with a physical exhibition in the Cathedral Library because of ongoing essential maintenance work to the Wren Library, below is a selection of some of the books, manuscripts and memorabilia that would have formed part of our Royalty Exhibition.
William the Conqueror moves the Cathedral to Lincoln, 1072.  Lincoln Cathedral Archives, A/1/1/1

This exceptionally rare royal writ, which is part of the Cathedral's historic archive, was issued by King William I and is the foundation document of Lincoln Cathedral.  In this writ William announces to Thorald, Sheriff of Lincolnshire, and the Sheriffs of all the other nine counties in the Diocese, that he has transferred the bishop's seat from Dorchester in Oxfordshire to the city of Lincoln.  It is as a result of this document that Remigius, the first Norman bishop, came to Lincoln to oversee the building of the Cathedral.
Manuscript letter of Sir Thomas Boleyn,1514. Lincoln Cathedral Library, gift of Jane Eaglen and Brian Lyson, 2009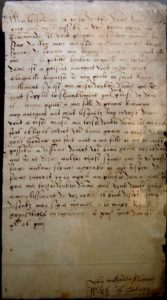 Written in French, and sent from Greenwich, this letter is dated 14 August 1514. It was donated to the Cathedral Library in 2009 by Jane Eaglen and Brian Lyson. The letter is from Sir Thomas Boleyn, father of Anne, and was sent to Margaret of Savoy, the Regent and Governor of Flanders. Thomas requests that his daughter Anne, referred to as "la petite Boulain", should be permitted to return from the Court in Flanders in order to travel to the French Court with Princess Mary, sister of King Henry VIII.  History tells us that this request was granted thus allowing Anne to spend several years in Paris where she acquired the attributes that so attracted the King when she returned to the English Court in the 1520s.
Peter Lombard, Commentary on the Psalms. 13th century.    Lincoln Cathedral Library MS 30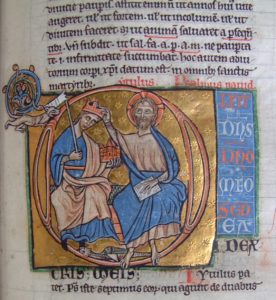 Peter Lombard (1100-1160) was born in Italy and was a celebrated theologian and bishop.  He made his name as a teacher at the Cathedral School in Paris.  His Commentary on the Psalms was written before 1148 and was widely studied.  This later 13th century copy contains beautifully illuminated capitals.  The colours and gold leaf are as vibrant and bright as they would have been almost 600 years ago.
This magnificent illuminated initial D shows King David seated on the left, holding a sceptre in his right hand and a model of a temple in his left, while God sits on the right crowning him.  The image clearly shows that, at that time, it was believed that the power of kings came directly from God.
Charles I, The Eikon Basiliki, (Εἰκὼν Βασιλική) The Pourtrature of his sacred majestie in his solitudes and sufferings. London, 1649.
This image shows the frontispiece from the book which is said to be Charles I's spiritual biography. It was written during his imprisonment before his execution in January 1649.  The image portrays the King as a Christ-like martyr looking towards heaven, where he hopes to exchange a crown of thorns for a heavenly crown.
Presentation copies of this book with the letters 'CR' for 'Charles Rex' were given to favoured supporters of the King. They were pocket-sized so that they could be hidden quickly to avoid them being seen by supporters of Oliver Cromwell. Royalists supported the King's view that his power to rule came directly from God and his execution caused a deep sense of unease among the population.  According to this book Charles was not afraid to die:  "I am not so old, as to be weary of life, nor (I hope) so bad, as to be either afraid to die, or ashamed to live".
Ogilby, John. The entertainment of Charles II.  London, 1662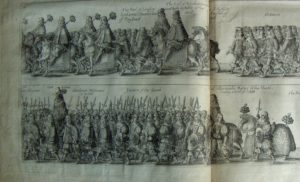 At the Restoration of the Monarchy in May 1660, Charles II rode through London towards Westminster Abbey. This image shows part of a magnificent folding plate showing his "passage through the city of London to his coronation". The book also includes "a brief narrative of his…coronation: with his magnificent proceeding, and royal feast in Westminster-hall".
The 17th century diarist Samuel Pepys who witnessed the procession wrote in his famous diary "I stood and saw the King come in with all the persons that were yesterday in the cavalcade, and a most pleasant sight it was to see them in their several robes.  And the King came in with his crowne on and his sceptre in his hand – under a canopy borne up by six silver staves, carried by Barons of the Cinqueports – and little bells at every end". 
The young Princess Elizabeth and some of her family
Memorabilia relating to royalty has always been popular and in the early 20th century picture postcards provided a relatively inexpensive way for people to obtain pictures of the Royal Family.  This selection of postcards is part of a larger collection given to the Cathedral Library by Miss Valerie Cowell of Grimsby.
– – – – – – – – – – – – – – – – – – – – – – – – – – – – – – – – – – – – – – – – – – – – – – – – – – – – – – –
Birds in the Cathedral Library
Throughout the restrictions placed on us during 2020/2021, many of us have taken the opportunity to reconnect with nature either by spending more time in our gardens or going for walks in the surrounding countryside.  It is believed that watching birds and listening to birdsong can help us to relax and de-stress, so here follows a selection of some of the birds that can be found in our books and manuscripts.
Manuscripts
Many of the Cathedral's oldest manuscripts have decorated capital letters often containing images of foliage, animals and birds.
A very early example can be found in a 12th century copy of "Commentaries on the Gospel of St John".  In the first image we see St John seated and writing, with a dove representing the Holy Spirit dictating to him.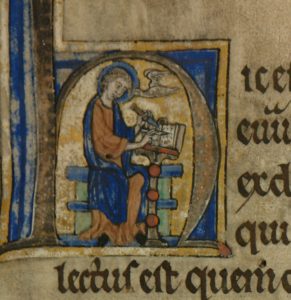 Lincoln Cathedral MS 97 f.1
In art, St John is often pictured with an eagle and his eagle appears on the following page in the same manuscript in the centre of a capital I beginning the words In principio. (In the beginning).  This is an illuminated capital: it has been decorated with gold leaf.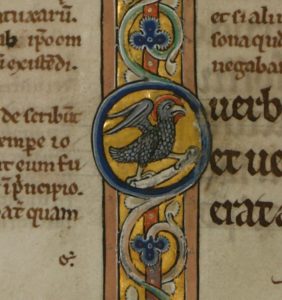 Lincoln Cathedral MS 97 f.2v
The following example of a duck biting an eel can be found at the foot of a capital letter P in a 13th century copy of a Latin Bible.  The illustrations did not always bear any relevance to the text that they accompanied.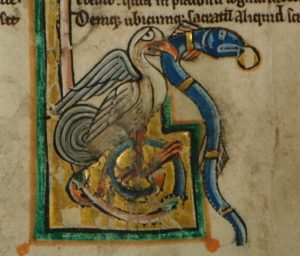 Lincoln Cathedral MS 131 f.5v
Another 13th century Latin Bible includes a cockerel at the foot of a capital I.  Although the drawing is a little crude, it is still recognisable, with its magnificent tail feathers.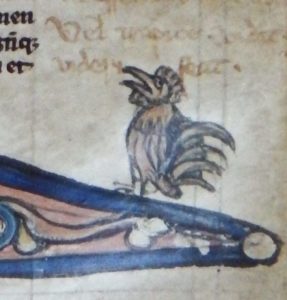 Lincoln Cathedral MS 246 f.6
Early Printed Books
The Cathedral library includes several early printed books about the natural world, including the 3 volume Historiae Animalium (History of Animals) compiled by Conrad Gesner a Swiss physician, and printed between 1551 and 1558.  It is believed to be the earliest modern zoological work of its type.  Written in Latin, it is the first attempt to accurately describe the birds and animals and their habitats, although it does include several mythical creatures including the unicorn!
The volume on birds is illustrated throughout with hand-coloured woodcuts.  The peacock is particularly spectacular.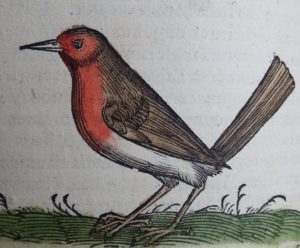 John Latham's A General synopsis of birds was printed in 1781 and is full of hand coloured plates and brief descriptions of each bird.  Latham was a physician and ornithologist.  According to his preface, the 7 volume set is meant to "give as far as may be, a concise account of all the birds hitherto known; nothing having been done in this way, in the English language, of late years".
The colours of the feathers of the Magnificent Bird of Paradise are described in great detail.  The author apparently saw an example in the collection of Sir Joseph Banks; this being in the days when it was acceptable to keep collections of stuffed birds.  The books describe many new species which Latham had discovered in various museums and private collections.  Nowadays we prefer to see these beautiful creatures in the wild in their natural habitats.
– – – – – – – – – – – – – – – – – – – – – – – – – – – – – – – – – – – – – – –