Lincoln Cathedral has been awarded a Sandford Award for its commitment to providing high quality heritage education.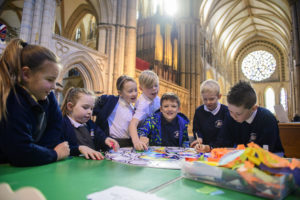 The accolade promotes and celebrates formal, curriculum-linked education opportunities offered to schools and colleges by heritage sites, and recognition is also given to informal learning and family programmes.
The Very Revd Christine Wilson, Dean of Lincoln said that the award showed that education is at the heart of the Cathedral's mission. "Throughout its history, Lincoln Cathedral has been a special place of worship, prayer and learning, and that continues to this day. Everyone who enters the Cathedral is part of its enduring story, and by working with schools, colleges and community groups we are ensuring that this important tradition continues.
"From an understanding of the principles of the Christian faith to the skills of the craftspeople that built the Cathedral, and the fascinating history that has taken place over almost a thousand years, there is a rich heritage and wealth of inspiring stories for everyone to uncover.
"Every inch of Lincoln Cathedral inspires opportunities for leaning and I'm thankful for the knowledge, skill and enthusiasm of our education team and all of our staff and volunteers at the Cathedral who enable us to share that with so many people."