Snappy dressers can pick-up a fashion-forward bargain by being among the first to grab a special ticket for our Lincoln Fashion Week finale!
Organiser Lincoln BIG today announced a super moneysaving deal for fashion lovers – by releasing £10 tickets for 10 days only. Our bargain buy is only available from today, Monday, February 11 to Wednesday, February 20 inclusive.
The £10 tickets allow people to get a seat at our fabulous catwalk show, which is being staged in the magical surroundings of Lincoln Cathedral on Friday, May 17, along with a souvenir programme and a glass of Prosecco.
A limited number of VIP tickets are also on offer for those who want to make the evening extra memorable. These cost £15 per person, and include a seat, a programme, goodie bag and a  glass of bubbly and canapés at a pre-show reception in the Chapter  House.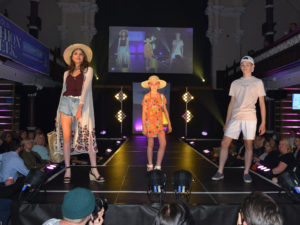 The stage is already set for a fantastic Lincoln Fashion Week, which will have a Victorian twist and be bursting with events taking place around the city between May 10 and 17.
St Mark's Retail Park and The Waterside Shopping Centre have already come on  board as Lincoln Fashion Week's headline sponsors and we are encouraging more retailers to get involved. Just call Jacinta Peachey on (01522) 842702.
We are also thrilled that BBC Radio Lincolnshire presenters Scott Dalton and Carla Green are returning to be our "Masters of Ceremony" for the fashion finale.
Lincoln BIG Events & Marketing Assistant Jacinta Peachey said: "We are delighted to be working with the team at Lincoln Cathedral, which will provide a dramatic backdrop to this year's catwalk finale.
"We are also looking forward to selling lots of tickets, because part of their sale will be donated to Macmillan Cancer Support", said Jacinta.
Lincoln Cathedral Business Development Manager Samantha Mellows said: "The Cathedral is delighted to be hosting the Lincoln Fashion Week catwalk finale and we are excited to see what fashions will be displayed.
"This is the first time we have hosted the catwalk and we are looking forward to the event and to seeing how it develops each year."
Macmillan Fundraising Manager for Lincolnshire Jamie Davenport said: "We're thrilled to be working with the team on this year's Lincoln Fashion Week.  Not only is it brilliant to be raising much-needed funds in Lincolnshire, but it gives us a great opportunity to spread awareness of the support people can access locally."
"Excitingly, this year we will be opening a brand new Cancer Support Centre in Lincoln Hospital.  The centre will bring together a range of services in one location, including cancer information, emotional support, welfare benefits, advice, practical support and much more.  This makes the support from Lincoln Fashion Week and local people even more important."
People can book their Lincoln Fashion Week catwalk finale tickets by clicking on:
www.visitlincoln.com/fashionfinale