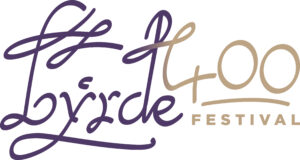 Through a series of lectures and recitals, led by a range of experts, we will uncover more about William Byrd, his life and music, here at Lincoln Cathedral.
About the symposium
The symposium is part of the Byrd 400 festival, celebrating the life and musical works of William Byrd, Organist and Master of the choristers at Lincoln Cathedral between 1563 and 1572.
As well as the symposium, the festival includes four days of special music in the liturgy and a number of musical events, from Lincoln Cathedral Choir and other guests.
Lectures and recitals will be held in the Chapter House of Lincoln Cathedral.
We are delighted to be joined by an incredibly knowledgeable panel of experts who will provide an insight into the life and music of Byrd. Each day includes a lecture recital
Symposium Programme
Monday 3 July 2023
1pm:  Welcome
1.15pm:  Lectures: Byrd at Lincoln
The Acoustic Environment of Byrd Second: Lincoln Minster in the 1560s, Magnus Williamson
"A NEST OF UNCLEAN BYRDS" – William Byrd, Lincoln Cathedral Chapter, and Archdeacon John Aylmer's "purge" of Lincoln Cathedral (30-minute lecture recital) Thomas Wilson
3.15pm: Lectures: Byrd and Recreational Song
Nec doctum satis: Humanist Translation and English Recreational Song Joseph M. Ortiz
William Byrd's 'Woeful Orpheus' in Context: Motion as visual and musical affect Katie Bank
Tuesday 4 July 2023
9am: Registration
9.15am: Lectures:  Byrd and the Chapel Royal
Byrd's 'Association' with Established Religion, Andrew Johnstone
Confessional colleagues? Byrd and his contemporaries in the Elizabethan Chapel Royal, Henry Oscar Davies Patton
William Byrd and the Elizabethan Tabernacle, Alexandra Siso
11.25am:  Lectures: Performing Byrd: Past and Present
Byrd Orchestrated: Three Case Studies, Joseph Sargent
12.10pm:  Recital: Byrd's Keyboard Music
Friederike Chylek
1 30pm Lectures: Byrd's Sacred Music – Motets and Magnificats
Magnificat and Magnificat Antiphon in the Oeuvre of William Byrd at Lincoln and Beyond: From the Anglican to the Roman Catholic Traditions, Walter Kreyszig
'That worishh, that Devillishe, and faithlesse Song': Byrd's Salve regina in Context, Owen Rees
3.15pm Lectures: Byrd's International and Catholic Connections
A Celebration of the Arrival of Two Priests: The Music at Harlesford House, 15–23 July 1586, Amy Farrnell
Byrd in the Age of Exploration and Exile, Kerry McCarthy
Tickets
Day one: £10
Day two: £15
Two-day ticket: £20
All tickets are subject to a small booking fee and include admission to the Cathedral.
If you are a current student and would like to apply for a conference bursary, please email us with your request including your name and current educational institution.

Tickets are sold as non-returnable and non-refundable.
This programme is subject to change with no notice. We reserve the right to cancel this event. If we do need to cancel, all tickets will be refunded.
This event is run through the Lincoln Cathedral Learning, Arts, Culture and Events CIO. Registered charity in England and Wales 1175597. Registered Address 4 Priorygate, Lincoln, LN2 1PL. Raising funds for Lincoln Cathedral.