'Genesis – A Visual Exploration' an exploratory exhibition by Stephen Guyon Bird will be displayed in the Chapter House of Lincoln Cathedral, Monday 5 March to Saturday 7 April 2018.
Stephen is the first artist and art teacher to receive a Farmington Scholarship in recognition of the spiritual nature of his works. He has drawn each day for the majority of his adult life and has an inspirational archive of sketchbooks, prints, artwork and drawings.
The Genesis project is supported by the Farmington Institute Oxford, founded to support and improve Religious Studies in schools.  Lincoln Cathedral is part of this touring exhibition and will be stopping for 4 weeks for the public to read and reflect Genesis.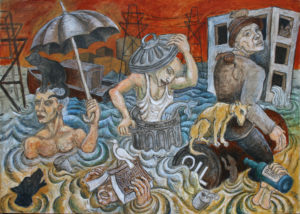 This is a free event included within the normal Cathedral entry charge.