Featuring a cast of West End Singers and a live band, join us for a 'landslide' concert, jam packed with Fleetwood Mac hits as you have never heard them before!
This incredible show will feature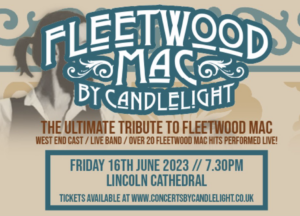 best loved songs including 'Little Lies', 'The Chain', 'Rhiannon', 'Don't Stop' and many more, performed at the beautiful Lincoln Cathedral by Candlelight.
So 'Go Your Own Way', release your inner 'Gypsy' and book your tickets now as this really is the concert of 'Dreams'!
Premium Tickets- £45.00
Band A Tickets- £40.00
Band B Tickets- £35.00
Band C Tickets- £30.00
Restricted Side View Tickets- £15.00
Access tickets- £45.00 (includes free carer seat- please select both the Access Seat and Carer seat on the seating plan when booking)
Doors open at 6:45pm.
TICKETS ARE NON-REFUNDABLE AND NON-EXCHANGEABLE

Please note: This event is run by Kinda Dusty.