The Lincoln Cathedral Flower Festival will take place in August 2022 celebrating 950 years of Lincoln Cathedral, and the visionaries who had the inspiration to build such a wonderful building and those who followed, changing our lives throughout history.
Stunning displays will blossom in every area of the magnificent Lincoln Cathedral, bringing it to life in a unique and inspiring way.
The festival will celebrate the life and works of St Hugh of Lincoln, as well as many other notable visionaries whose ideas and actions have shaped the world we live in and changed our lives.
The displays of the Lincoln Flower Festival 2022 will cover poetry, theatre, film, and fashion, alongside history, exploration, invention, and more. There will be something for everyone, from the Mayflower Pilgrims' journey to the New World to the moon landing and even Harry Potter!
---
Tickets
Tickets for the Lincoln Cathedral Flower Festival 2022 are now available:
Ticket prices:
Adult – £15
Concessions – £13.50
Under 16s – Free

Groups
If you would like to bring a group to the flower festival, please contact ruth.creasey@lincolncathedral.com to book your party. A special rate applies to groups of more then 10 people at £12.75 per person.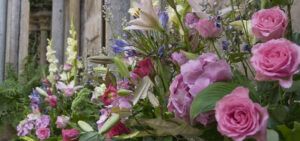 Opening times
Wednesday 3 August: Preview Evening
Thursday 4 August: 9am – 4pm
Friday 5 August 9am – 4pm 
Friday 5 August  – Musical Meander – 7.30pm – 9.30pm
Saturday 6 August: 9am – 4pm and 6.30pm – 8pm (Please be aware of closure 4pm – 6.30pm)
Sunday 7 August: 12noon – 3pm and 5pm – 8pm (Please be aware of closure 3pm – 5pm)
Monday 8 August: 9am – 4pm
As the Cathedral is a working church, please be aware the event will be closed 4pm – 6.30pm on Saturday and 3pm – 5pm on Sunday to allow services to take place. All are welcome to join us for any of these services. 
This event is run through Lincoln Cathedral Learning, Arts, Culture and Events CIO (Charity Number 1175597) to raise funds for Lincoln Cathedral.