A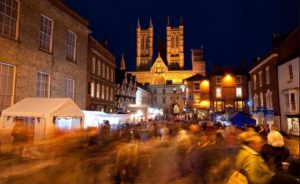 contemporary cathedral city with over 2,000 years of history, Lincoln is the perfect place to visit over the festive period. Take a trip back through time and stroll along the cobbles the cultural quarter of the city. The medieval square between the impressive Norman castle and magnificent gothic cathedral is the perfect backdrop for the Christmas Market.
Visitors are welcomed to this beautiful city and the traditional Christmas Market, where you will enjoy cultural entertainment and stroll around over 200 stalls nestled with in the medieval square and surrounding area.
During the market, there is lots to do in the Cathedral from choir concerts, special tours and children's crafts to mulled wine and festive treats from our cafe and you will find a whole range of festive gifts in the Cathedral Shop.
We continue our regular pattern of worship throughout the Christmas market, along with our very popular advent carol services on the Friday and Saturday evenings at 5.30pm. You can find out more about our services by checking the worship and music page of our website.
During the Christmas market, admission charges are suspended however, we hope that you will consider donating to the Cathedral to support us in maintaining this beautiful building for future generations. Our recommended donation is £5.00 per person but all donations are appreciated. You can donate in cash or by using one of our contactless terminals.
You can find out more about the Christmas market, including opening times and travel information at www.lincoln-christmasmarket.co.uk/