From cavemen to Banksy, throughout history it seems the few people can resist the urge to leave their mark on a wall or building, and Lincoln Cathedral is no exception. From the floor to the top of the tower there are hundreds of examples of medieval graffiti.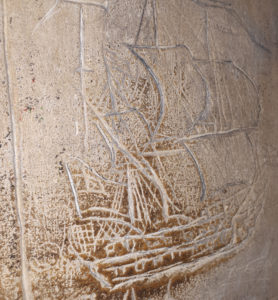 Join our expert guides on the hunt for some of the Cathedral's most interesting graffiti and learn more about some of the people that have left their mark. From Norman guards to Victorian tourists, there is a huge range of images, symbols and words etched on to the fabric of the building just waiting to be spotted by the sharp-eyed visitor.
Each tour will last approximately 90 minutes and cost £5 per person in addition to the general admission fee. Places are limited to 10 people on each tour so it is recommended that you book in advance to guarantee a place.
You can book in person at the Cathedral Welcome Desk or by calling 01522 561600