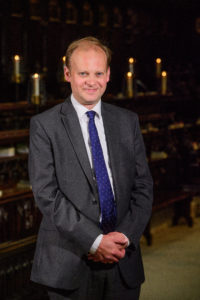 Experience Jeffrey Makinson on the Lincoln Cathedral Willis Organ. 
Jeffrey Makinson is Assistant Director of Music and Sub-Organist of Lincoln Cathedral. He is also a tutor for the Royal College of Organists Academy and Music Director of Beverley Chamber Choir.
He received his musical training at the Royal Northern College of Music and at Manchester University. He subsequently became Organ Scholar at York Minster from 1992-1994, before spending five years as Assistant Organist at Lincoln Cathedral. He moved to Manchester Cathedral as Sub-Organist in 1999. During his time in Manchester, he was Tutor in Organ Studies at the RNCM and at Manchester University.
Jeffrey returned to Lincoln Cathedral in January 2015. As part of his duties in Lincoln, Jeffrey directs the Girls of the Cathedral Choir and accompanies the Cathedral Choir for many of the choral services. Alongside his work in Lincoln, he maintains a busy schedule as a recitalist, accompanist, conductor, teacher and adjudicator in the city and throughout the country.
As a recitalist, Jeffrey has performed at most of the major British Cathedrals, Abbeys, Collegiate Chapels, Churches and Concert Halls, including numerous recitals at Westminster Abbey, Westminster Cathedral, St. Paul's Cathedral and King's College, Cambridge. Jeffrey has also performed in numerous foreign countries including Czech Republic, France, Germany, Holland, Hungary, Ireland, Italy and the USA,  and as an orchestral musician has worked alongside some of the country's leading ensembles, including the BBC Philharmonic Orchestra, Hallé, Liverpool Philharmonic Orchestra , Manchester Camerata, Northern Chamber Orchestra and the Philharmonia Orchestra.
Jeffrey has made numerous CD recordings, with the Albany, Delphian, Herald, Lammas, Naxos, Priory and Regent labels. He works extensively for the BBC, as regular musical director and organist for Radio 4 Daily Service. In addition, he has worked on programmes such as Songs of Praise, Chorister of the Year, Choral Evensong, Minstrels in the Gallery, Young Musician of the Year, Sunday Morning Worship and the Radio 4 Pilgrimage to Rome. Since 1998, he has been Organist in Residence at the Exon Singers Festival in Devon.
Having a keen interest in promoting new music Jeffrey has given first performances of works by numerous leading composers, including Judith Bingham, Mark Blatchly, James Burton, Martin Bussey, Bob Chilcott, Naji Hakim, Robin Holloway, Grayston Ives, Francis Jackson, George Lloyd, Richard Lloyd, Philip Moore, Howard Skempton and Philip Wilby. He is a regular tutor on the 'Oundle for Organists' courses,
The Programme for this concert will include works from
J.S. Bach, Franck, Messiaen and Durufle
Tickets are sold as non-returnable and non-refundable.
This programme is subject to change with no notice. We reserve the right to cancel this event. If we do need to cancel all tickets will be refunded.
This event is run through Lincoln Cathedral Learning, Arts, Culture and Events CIO (Charity Number 1175597) to raise funds for Lincoln Cathedral.