Once an academic question about an "irrelevant" region, today increasing commercial opportunities and climate change are creating political tensions over territorial claims. Recently Russia planted a flag on the North Pole seabed! We examine the issues.
David Drewry is Honorary Fellow at Emmanuel College, Cambridge University where he was previously Director of the Scott Polar Research Institute.
David has research interests in glaciology/geophysics, climate change and science policy and has led expeditions to the Arctic and Antarctic regions.
He was Director of the British Antarctic Survey, served as Chair of the Council of Managers of National Antarctic Programs, President of the International Arctic Science Committee, Vice-President of the Royal Geographical Society and was a member of the Intergovernmental Panel on Climate Change.
David is Non-Executive Director at the UK Commission for UNESCO, Trustee Emeritus of the Natural History Museum in London, was Vice-President of the European University Association and former Vice-Chancellor of Hull University (1999-2009). He was previously Director-General of the British Council and Director of Science and Technology at UK Natural Environment Research Council. David has been awarded the Patron's Gold Medal of the Royal Geographical Society, the Prix de la Belgica Gold Medal of the Royal Academy of Belgium, the Polar Medal, the United States Antarctic Service Medal and several honorary degrees from British and overseas universities. He has a mountain and a glacier named after him in Antarctica.
The talk will be held at the Granary, Walk House Farm, Barrow upon Humber, on Tuesday 22 October 2019
Tickets are priced at £30 per person, which includes a glass of prosecco or soft drink on arrival.
The talk and questions will begin at 7pm. There will be a simple two course supper.
To RSVP please download the form below and return to John Clugston, St Vincent House, Normanby Road, Scunthorpe. DN15 8QT, by 4 October please.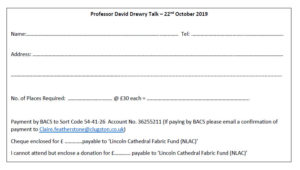 David Drewry Talk booking form
Tickets will not be sent, but a list of guests will be kept at the entrance.
Please note there is no wheelchair access as the Granary is up a flight of stairs.