Thank you for choosing to support the Chapter House Appeal here at Lincoln Cathedral. There are a number of ways you can support the project either as a one-off donation, or as a regular gift in support of this heritage conservation project.
If you want to read more about the project, please click here to view the Chapter House Appeal page.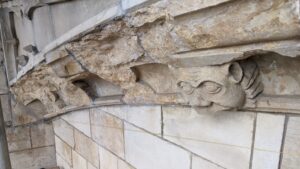 Sponsor a Stonemason
Sponsoring a stonemason is a great way to support the project. Starting at just £10 for 20 minutes, you will receive a certificate and and information sheet on the work of our stonemasons. If you love heritage and the skill that goes into conserving buildings such as Lincoln Cathedral, we're sure you'll love sponsoring a stonemason!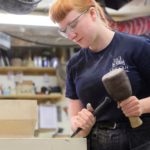 Sign a Stone
It's time to make your mark on Lincoln Cathedral, while supporting its conservation at the same time, this could be for you. Selected stones are set aside and divided up into a grid into which you can sign your name. We'll arrange a time with you to come in and sign your stone. All the information is recorded and entered into the Cathedral archive. Signatures are not visible on the exterior face of the stone, but in centuries to come when the stone needs replacing, the story of each signature can be told again. When the stone is finally set into the building, we'll invite you in to see it go in, and offer you a glass of prosecco to celebrate with the other people who share your stone.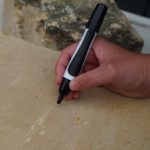 Carve Your Name on a Stone
More prestigious than signing a stone, have your name carved into a newly crafted Chapter House stone. The carving will remain in situ for centuries to come. We'll give you a commemorative pack that will include photograph of your stone, and a dedication certificate. When the stone is finally set into the building, we'll invite you in to see it go in, and offer you a glass of prosecco to celebrate.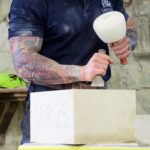 Sponsor the Conservation/Carving of a Figurehead or Decorative Stone
There are many figureheads  and decorative stones on the Chapter house here at Lincoln Cathedral, many of which are in need of conservation. You can help in this delicate process by making a donation in support of this conservation work on the Chapter House. You will be sent a certificate to mark your support dedicated in your name, or the name of a gift recipient you select.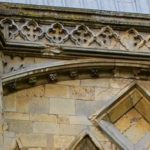 Ways you can donate
Credit/debit card - please click on the 'Donate' buttons below to find out more about each specific donation option.
Cheque - please make cheques payable to 'Lincoln Cathedral Fabric Fund' and post to:
Lincoln Cathedral Chapter House Appeal, FREEPOST, 28 Eastgate, Lincoln, LN2 1BR.
NB. All donations will be applied to the project generally, but will be acknowledged as this equivalent donation option. Any donations received over the Chapter House appeal target, will be applied to the Fabric Fund in general.
At the end of the project, all donors will be invited to a Fabric Fund celebration evensong.