Lincoln Cathedral relies heavily on its volunteers to provide a warm welcome to its many worshippers and visitors and the Cathedral is incredibly grateful to them.
The Cathedral has a thriving volunteer community, including over 500 volunteers in over 30 different roles. The volunteer roles vary widely from Bell Ringers to Stewards, from Library volunteers to Tower Guides and many more.
We welcome new volunteers from all age groups, backgrounds and faiths (or none) who are interested in giving some of their time on a regular basis. If you would be interested in joining our community, please see our current volunteering vacancies below.
If there is a vacancy which you would like to apply for, please complete and return the online application form to volunteers@lincolncathedral.com, please click here to download the form.
CURRENT VACANCIES: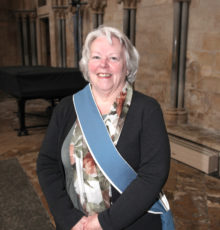 Stewards
Lincoln Cathedral ought rightly to be worshipped in, used, celebrated and enjoyed. The Cathedral stewards are responsible for helping to create this living space through their work supporting services, concerts, plays, lectures, exhibitions, graduations…. the list continues!