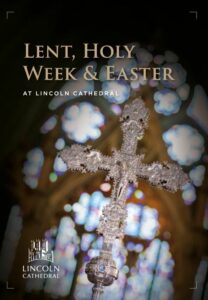 Marking the beginning of Lent
Ash Wednesday – Wednesday 22 February
8am Morning prayer
8.30am Holy Communion with imposition of ashes
12.30pm Eucharist with imposition of ashes
5.30pm Solemn Evensong (with music by the Cathedral Choir)
7.30pm Solemn Eucharist with Imposition of Ashes (with music by the Cathedral Consort)
Throughout Lent
Stations of the Cross – From 1 March, at 4.30pm on Wednesdays
Meet in the Nave at 4.30pm and join one of our chaplains for this quiet and devotional reflection on the journey to the Cross.
Special days during Lent
Friday 24 March – Eve of the Feast of the Annunciation
5.30pm Solemn Evensong (with music from the Cathedral Choir)
Saturday 25 March – The Feast of the Annunciation
9am Morning Prayer
12.30pm Eucharist
5.30pm Evening Prayer
7pm  St John Passion – a performance by the Cathedral Choir
Special Services during Holy Week
Sunday 2 April – Palm Sunday
10.30am procession of the Palms, Reading of the Passion and Sung Eucharist. This service begins in the Castle.
3.45pm Choral Evensong
Monday 3 April – Monday of Holy Week
5.30pm Choral Evensong
7.30pm Compline with Meditation
Tuesday 4 April – Tuesday of Holy Week
11am Chrism Eucharist
5.30pm Choral Evensong
7.30pm Compline with Meditation
Wednesday 5 April – Wednesday of Holy Week
5.30pm Choral Evensong
7.30pm Tenebrae: An evening service for Holy Week
Thursday 6 April – Maundy Thursday
7.30pm Eucharist of the Last Supper, Stripping of the Altar and watch of the Passion until Midnight
Friday 7 April – Good Friday
9.30am Liturgy of Good Friday
12noon Three Hours' Devotion
Saturday 8 April – Easter Eve
8pm Paschal Vigil with Baptism and Confirmation and the First Eucharist of Easter
Sunday 9 April – Easter Day
7.45am Litany
8am Holy Communion
10.30am Festal Eucharist for Easter Day
12.30pm Holy Communion
3.45pm Festal Evensong for Easter Day
Celebrating Eastertide
Thursday 18 May – Ascension Day
7am morning Eucharist, followed by a simple breakfast
5.30pm Solemn Evensong – with music by the Cathedral Choir
7.30pm Sung Eucharist  – with music by the Cathedral Consort
Sunday 28 May – Pentecost
10am Sung Eucharist for the Feast of Pentecost
Download the full Lent, Holy Week and Easter Brochure