On Friday 17th September, the installation will take place at Lincoln Cathedral of Michael Sheppard as Clericus Fabricae.
The traditional title, which translates as 'clerk of works' will be conferred during evensong in a ceremony which will see Michael take his stall in the stunning and historic St Hugh's choir.
The role, now known as Director of Works and Property, has oversight of all aspects of the care, maintenance, restoration and conservation of the Cathedral and all other properties in the cathedral estate, including houses in the Cathedral Close and the historic arches and monuments in the surrounding area.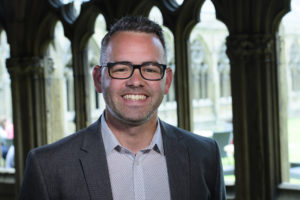 Michael, an accredited conservator who has worked on architectural conservation projects for more than 20 years, began his career working on stone, plaster and decorative surface projects in castles, churches and stately homes across the UK including Cardiff Castle and Magdalen College, Oxford. Michael has been in his post at Lincoln Cathedral since July 2019, but the official ceremony has been delayed due to the covid pandemic.
During his time at the Cathedral Michael has already taken the lead on several major projects including overseeing the delivery of conservation work to the internationally important sculptures on the west front of the Cathedral, the delivery of the new visitor centre buildings and replacements of vital facilities including the outdated heating system.
The next major project which Michael and his team will oversee is the conservation and restoration of the Chapter House. Fundraising for the Chapter House works began earlier in the year, and it is hoped more than £1.3million will be raised to cover the cost of the essential maintenance. You can find out more and make a contribution at www.lincolncathedral.com/chapter-house-appeal.
Michael said that he was honoured and excited to be taking his place in the Cathedral team. "The construction of Lincoln Cathedral began 950 years ago and since then there has been a continuous cycle of building, repair and maintenance that continues to this day.
"The site is vast and complex and requires the careful management of traditional crafts men and women to deliver projects across many different environments. Lincoln Cathedral is the only cathedral to be listed in full on Historic England's 'At Risk' register, which presents even greater challenges, but I have a skilled and passionate team and together we are determined to conserve this stunning building and ensure that it can be handed on to the next generation in the best possible condition. We have a 100-year plan of works, with detailed strategy for the next five years."
"To have responsibility for a building of such importance is daunting, but it is also a dream job and highlight of my career. It's a huge privilege to stand alongside those who have gone before me and those who will continue this work in future."
Michael is also using his experience to inspire and educate the next generation of conservators. He has recently become a tutor for the Cathedral Workshop Fellowship, delivering their conservation module for undergraduates developing their conservation skills in the cathedral construction environment.
The Very Revd Christine Wilson, Dean of Lincoln, said that the care of the Cathedral is a vital, complex and unending task. "This inspirational building was built to the glory of God, and as an active church it is still fulfilling that role to this day and, we hope, for many generations to come.
"Maintenance of a building of this size, age and intricacy is not without its challenges and requires skill, dedication and resilience. I know that Michael encourages his team to use their skills with passion and ingenuity. Those of us working here today are privileged to be the Cathedral's custodians for a brief moment in its lifespan.
"On behalf of the Chapter and everyone at the Cathedral I want to thank Michael for his commitment to ensuring the future of this important building. We thank God for the skills of Michael and all who work to conserve this place of worship, and we pray for the continued success of this important work."