The Revd Canon Dr Simon Jones is to be the Interim Dean of Lincoln following the retirement of Dean Christine
Simon is Chaplain and Fellow of Merton College, Oxford where he has overall responsibility for the Chapel and Choral Foundation, welfare provision and student financial support.  He teaches liturgy, and is a member of the University of Oxford's Faculty of Theology and Religion.
Before coming to Merton, Simon served his curacy at Tewkesbury Abbey in the Diocese of Gloucester.  He trained for ordination at Westcott House in Cambridge and, as a member of Selwyn College, completed a PhD.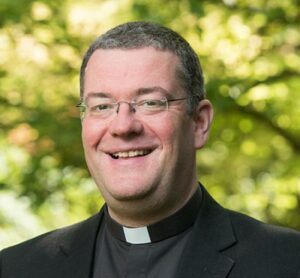 Outside the College, Simon is Chair of the Steering Committee of the International Anglican Liturgical Consultation, and the Board of the charitable company, Hymns Ancient and Modern.  He has been involved in the work of the Church of England's Liturgical Commission for over 20 years, and is currently a consultant to it.  He is an Honorary Canon of Christ Church, Oxford, and a Wiccamical Prebendary (Honorary Canon Theologian) of Chichester Cathedral.
The Governing Body of Merton College has generously agreed to second Simon to Lincoln for two terms and the summer long vacation which means being Interim Dean from Passiontide when the Dean retires until Christmas, by which time the substantive Dean will be on the way.
The Interim Dean is appointed by the Bishop with the agreement of Chapter. A date is yet to be fixed for Simon's installation. The Very Revd Catherine Ogle, the Dean of Winchester, has agreed to be Simon's mentor while he is in post.
The Acting Bishop of Lincoln, The Rt Revd Stephen Conway, is delighted that this appointment has been possible. "I am so grateful to the Warden and Fellows of Merton for their releasing Simon to serve with us during his interim tenure as Dean of Lincoln. Simon is an accomplished priest, pastor and theologian. He will bring his own particular gifts and insights to enrich the life and mission of the Cathedral; but he will also be looking to learn from his Lincoln colleagues".
Simon writes, "It's a great privilege to have the opportunity to serve the Cathedral and Diocese of Lincoln in this interim role.  I am grateful to colleagues at Merton for making this secondment possible, and very much look forward to working alongside new colleagues in Lincoln and becoming part of the Cathedral community".