Lincoln Cathedral has won the Civic Trust Conservation Award for its work to the west front of the building and nearby Exchequergate Arch.
It was announced that Lincoln Cathedral had won the AABC Conservation Award at the 64th Anniversary Awards Ceremony, held in the Great Hall of the Marshall Building, London School of Economics and Political Science in London on Friday 31st March.
The ceremony saw 300 architects, council leaders and built environment professionals from all over the world come together to celebrate the outstanding achievements of those who have contributed to their communities through exceptional work in architecture, urban design, planning and public art.
Lincoln Cathedral was represented at the awards ceremony by Jane Cowan, Head of Conservation, and Nick Rank (Buttress Architects Ltd), who until his recent retirement had been architect at the Cathedral for 26 years.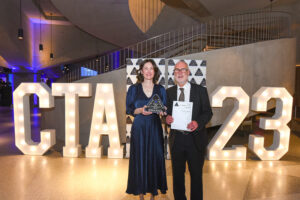 The Conservation Award is presented to the project which demonstrates the highest standards of historic building conservation and makes an outstanding contribution to the quality and appearance of the built environment.
Jane explained that work on the west front has spanned more than four decades. "From the enlightened art historians, architects, specialists and clergy of the late 1970s who recognised the need for Lincoln to take action on the decaying sculpture, through the extensive work of the 1990s and the recently completed five-year project, conserving the Cathedral's west front has been the work of dozens of craftspeople, specialists and supporters."
She added that the award of £12million funding from the National Lottery Heritage Fund for the Lincoln Cathedral Connected project gave Lincoln a once-in-a-generation opportunity to complete the restoration of the west front, conserving the Romanesque Frieze, the Gallery of Kings, the Bishop statues, central niche and great west doorway.
"The Cathedral Works Team and our sub-contractors did an exceptional job, on what was sometimes a highly challenging and complex project. Lincoln Cathedral's west front is one of the most majestic in Europe, and the work of the last four decades has helped preserve it for generations to come."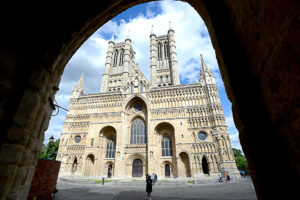 The Civic Trust Awards for excellence in the built environment were founded in 1959, making them one of the oldest built environment award schemes in Europe. They are an important platform for celebrating those who have contributed to their community through exceptional work.
The Civic Trusts judges were impressed by the exceptional level of craftsmanship displayed throughout the project commenting, "Despite the scale, fastidious attention to detail at each step of the project has resulted in a joyful outcome."