Lincoln Cathedral is delighted to announce the appointment of a new Assistant Organist.
Alana Brook joins the music department following two years at Ripon Cathedral and will be supporting the continuing growth and promotion of music at Lincoln Cathedral.
Alana first began to play the organ while at university studying for a degree in Music, Education and Arts, becoming Organ Scholar at Adelaide Cathedral.
Alana said that she is very much looking forward to taking up her role at Lincoln Cathedral, "This is a great opportunity to do new things and share a different perspective from another Anglican tradition. I'm looking forward to having more opportunity play the organ and also to conduct the choir."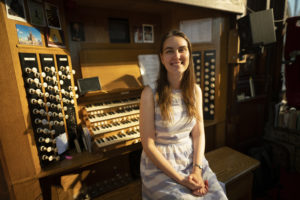 Lincoln Cathedral's Father Willis Organ, dedicated on St Hugh's Day, 17 November, 1898, is much admired by organists from around the world and Alana, along with the Cathedral's other organists can look forward to taking part in the many regular recitals hosted by the Cathedral.
As well as playing the organ for Cathedral services and events, Alana's role will involve working closely with the Cathedral Choir and training the chorister probationers; a role which draws on her earlier experience of teaching music at Milton Abbey School in Dorset.
Aric Prentice, Director of Music at Lincoln Cathedral said; "We are delighted that Alana will be joining our team of musicians at the Cathedral in September. She has a huge amount of experience from her time in Ripon Cathedral and before that in Adelaide in her native Australia. We look forward to working with her and making her welcome as she moves to Lincoln."