Eleanor was born in 1244, the daughter of Ferdinand III, King of Castile and Leon and Joanna, Countess of Ponthieu. She was a Spanish princess – the Infanta of Castile, and was introduced to Edward when she was just 10 years old.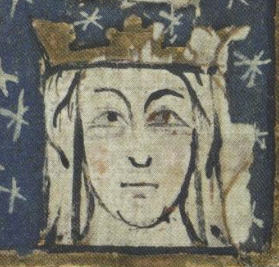 Queen Eleanor – also known as Eleanor of Castile – was married to King Edward I at the monastery of Las Huelgas in Burgos, on 1 November 1254, and historical sources depict the marriage as affectionate and based on a high level of mutual love and respect.
The Queen was also a successful businesswoman in her own right, owning several properties and businesses. Eleanor and Edward had sixteen children, although only six survived into adulthood, and, when King Henry III died and Edward became King, travelling extensively around the country, his Queen would accompany him.
When Queen Eleanor died in the Lincolnshire village of Harby on 28 November 1290, aged 49, King Edward was heartbroken and decreed that memorial crosses would be placed between Lincoln and London to mark the procession of her body.
The "Eleanor crosses" originally stood at Lincoln, Grantham, Stamford, Geddington, Hardingstone near Northampton, Stony Stratford, Woburn, Dunstable, St Albans, Waltham, Westcheap, and Charing – although now only three have survived, and none of them are complete.
As was the custom in the 13th century, Queen Eleanor had her viscera removed and it was buried in Lincoln Cathedral. Her heart was buried at Blackfriars Monastery in London, according to her wishes, and her body was interred at Westminster Abbey.
The tomb at Lincoln Cathedral was destroyed by Cromwell supporters in the 17th Century, but was restored in 1891 and can still be viewed today in Lincoln Cathedral.