Lincoln Cathedral will be lit yellow on the evening of Tuesday 23 March as part of the National Day of Reflection. It will mark the culmination of a day of prayer and activity in support of all who have been bereaved.
Organised by Marie Curie and supported by the Church of England, the National Day of Reflection takes place on 23 March, the anniversary of the first UK lockdown, and is an opportunity to reflect on our collective loss, support those who've been bereaved, and hope for a brighter future.
At 12noon there will be a nationwide minute's silence which will be introduced with prayers in the Cathedral and a bell will be tolled for a minute. Throughout the day prayers, reflections and music from the choir will be shared on the Cathedral's social media channels. At 5.30pm Choral Evensong will include prayers to mark the first anniversary of lockdown; this will be streamed live on the Cathedral's Facebook page – www.facebook.com/lincoln.cathedral.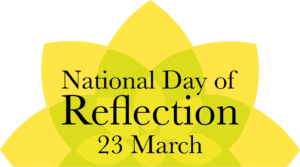 Finally, at dusk the Cathedral will be illuminated yellow and everyone is encouraged to 'Share the Light' by displaying a candle or light in their window as the nation joins together in reflection and hope.
The Revd Canon Nick Brown, Precentor of Lincoln said that the unique challenges of the last year have had a lasting impact on the whole population. "Since the beginning of the first lockdown hundreds of thousands of people have died, with many more left bereaved. With the restrictions in place many people have not been able to grieve as they usually would, or to offer support to others in person.
"The burden has, at times, been hard to bear. Yet, throughout this we have seen many demonstrations of kindness, compassion and care. As we approach Easter, we should remember and reflect on Jesus' command at the Last Supper that we should love one another, and I encourage everyone to continue support each other in any way possible and, although we know that there are still tough times ahead, to look forward with hope."
Lauren Alexander, Community Fundraiser for Lincolnshire Marie Curie said, "We are delighted to have Lincoln Cathedral joining us to mark the National Day of Reflection. When people think about Lincolnshire, they instantly think about the Cathedral so it is a huge honour that they are going light up the building on Tuesday. I would like to thank everyone involved in putting together the activities of reflection – let's use this time to collectively remember the ones we have lost".