See the large-scale Cathedral 'playhouse' and create your own stained-glass window
Try your hand at bell ringing with the Cathedral Bellringing Guild
Reflect on the importance of nature in Lincolnshire
Learn new skills with masons and glaziers from the Cathedral Works Department
Get an update from the Lincoln Cathedral Connected team on ongoing works
See treasures from the Cathedral's collection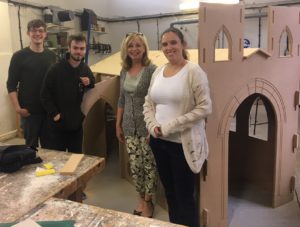 Visitors to this year's Lincolnshire Show, taking place 20-21 June, can enjoy a number of activities at Lincoln Cathedral's stand in the Discovery Zone (DZ02), including paying a visit to the large-scale Cathedral 'playhouse'.
The playhouse cathedral, built by Lincoln College students Isaac Hunter, Harry Hall, Kevin Hallsworth and technician Sara Dixon in collaboration with Lincoln University design hub and Timmins Engineering and Construction, will be a great attraction for kids and big kids alike.
In addition to its carefully crafted towers, the playhouse features a chalkboard on the inside for children to draw on and cushions to sit on, and children will have the opportunity to create their own stained-glass windows. Visitors are also encouraged to try their hand at bell ringing with the Cathedral Bellringing Guild.
Representatives from the Cathedral works department, including masons and glaziers, will be on hand to give demonstrations of the different skills involved in caring for the Cathedral and there will be a shop selling roof timber crosses and other items made by the works department.
The Cathedral's stand will also feature a prayer space, dedicated to giving thanks for the environment and agriculture.
Visitors will also have the opportunity to meet members of the Heritage Lottery Funded Lincoln Cathedral Connected project team to discuss all of the great things happening at the Cathedral, including the ongoing works. The Connected project aims to improve the visitor experience at the Cathedral through restoration and renovation of its facilities whilst also engaging people in the Cathedral's past, archaeology and architecture through activities and events to educate, inspire and inform.
Fern Dawson, collections and engagement officer at Lincoln Cathedral, said: "We are excited to bring the Cathedral to the county at the Show. As well as plenty of activities for the public to get involved in, there will also be the opportunity to reflect on the importance of the natural environment in our great county.
"The students at Lincoln College have been working meticulously for the past few months to build the playhouse and we can't wait for visitors to this year's Lincolnshire Show to see and experience it.
"We look forward to welcoming visitors of all ages."
Complimentary tea and coffee is kindly being provided by Stokes of Lincoln.