A statement from The Very Revd Christine Wilson, Dean of Lincoln
We extend our heartfelt condolences to the royal family on the news of the death of our much beloved Queen Elizabeth.
Since the day of her coronation in 1953, her life has been one of loyal and unstinting service to our nation and the Commonwealth. She has brought great wisdom and stability and provided a shining example of Christian discipleship and witness as Supreme Governor of the Church of England.
We give thanks for her life and deeply mourn her passing.
We pray at this moment of great sorrow for the Royal family and all who mourn.
May they know the consolation that the Lord is in our midst and turns the darkness of death into the dawn of new life, and the sorrow of parting into the joy of heaven.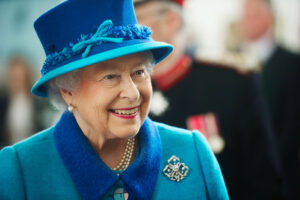 Lincoln Cathedral is open for all until 8pm, to come and pray, light a candle and sign books of condolence. Please see the Visit us page for opening times and other information to help your visit.
Father of mercies and God of all compassion, give comfort and hope to the Royal Family and all who mourn the death of Her Majesty the Queen.  Support and uphold them, reassure them of your continuing love and give them the light and peace of your presence.  Your Son, our Lord Jesus Christ, by dying has destroyed our death and by rising restored life and hope.  May we go forward eagerly to meet him and, after this life, be reunited with all our loved ones and friends who have died, in that place where every tear is wiped away.  We make our prayer in the name of Jesus the Lord.  Amen
We would also like to share some comforting words of Psalm 23 to support us in the days ahead:
The Lord is my shepherd: therefore can I lack nothing.
He shall feed me in a green pasture: and lead me forth beside the waters of comfort.
He shall convert my soul: and bring me forth in the paths of righteousness, for his name's sake.
Yea, though I walk through the valley of the shadow of death, I will fear no evil: for thou art with me, thy rod and thy staff comfort me.
Thou hast prepared a table before me against them that trouble me: thou hast anointed my head with oil, and my cup shall be full.
Surely thy loving-kindness and mercy shall follow me all the days of my life: and I will dwell in the house of the Lord for ever.