The Hallé will be returning to Lincoln Cathedral on Friday 27 September for their popular and highly acclaimed annual concert.
The Hallé has a reputation for artistic excellence, ranking it amongst the world's top symphonic ensembles. Now in its 161st season, it will fill the Nave at Lincoln Cathedral with the stirring and atmospheric sounds of Elgar, Sibelius and Saint-Saëns.
The Cathedral is also delighted to announce the return of Sir Mark Elder CH CBE, music director at The Hallé as the conductor for this year's performance. His engaging and physical style of conducting is always popular with audiences and brings its own unique dynamic to the performance.
Tickets for the event go on sale on Monday 1 July and are expected to sell out quickly. They are available from ww.lincolncathedral.com, by calling 01522 504 394 or in the Cathedral Shop. Prices start from £12.
The Revd Canon John Patrick, Subdean of Lincoln said that a performance by The Hallé is always one of the most anticipated musical events in the Cathedral calendar. "Hearing the talented musicians of The Hallé fill the Nave of the Cathedral with music is always a wonderfully uplifting experience, and Sir Mark Elder's passion and performance take that to another level.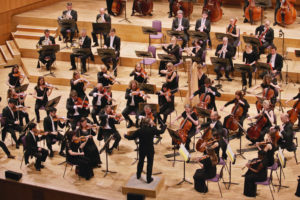 "This year we are particularly pleased to be showcasing the talents of one of our own musicians, with our Organist Laureate, Dr Colin Walsh joining The Hallé for a performance of Saint-Saëns' Organ Symphony No.3 inC minor. The combination of The Hallé, Saint-Saëns, Colin Walsh and the Father Willis Organ is one that I think it would be difficult to top," he said.
Founded in Manchester by Sir Charles Hallé, The Hallé gave its first concert in the Free Trade Hall on 30 January 1858. The Hallé's distinguished history of acclaimed performances includes more than 70 concerts each year in The Bridgewater Hall, Manchester, around 40 concerts a year around Britain, international tours, frequent broadcasts and televised performances.
The players in The Hallé are among the finest in the world and have come from 14 countries all over the world to work in Manchester. Many teach at the Royal Northern College of Music and Chetham's School of Music and other UK wide specialist Conservatoires and schools, playing and teaching in the wider community.