Admissions
Adult: £9.00*
Concession: £7.20*
Children: £4.80* (5-16 Years – Under 5 Years Free)
Family: £20.80* (2 Adults and up to 3 Children)
All are welcome here at Lincoln Cathedral and we invite all our guests to come and experience the stunning view of the Nave, light a candle, attend a Service or pray in our Morning Chapel without charge.
Please note you do not need to pre-book your visit to Lincoln Cathedral.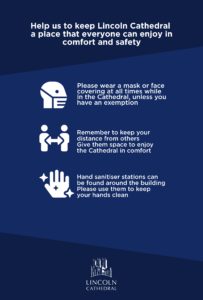 *Donate your Cathedral admission fee and if possible add Gift Aid to receive an annual pass.
Tours
A floor tour is included in your admission.
The following additional tours are available at a cost of £7.50 per person:
Roof Tour
Explore the roof space of Lincoln Cathedral with views across the City
Tower Tour
Climb more than 300 steps to reach the top of the Central Tower of Lincoln Cathedral and take in the fantastic 360 degree views of the city, county and beyond.
To find out more and book your place, please visit – https://www.eventbrite.co.uk/e/guided-tower-tour-tickets-154123041165
Outdoor tour
Take a closer look at the stunning architecture and fantastic carvings that adorn the exterior of Lincoln Cathedral. Lean more about the long history of this iconic building.
To find out more and book your place, please visit – https://www.eventbrite.co.uk/e/outdoor-tour-tickets-156473996937
Graffiti Tour
Join us on our Medieval Graffiti Tour to gain an insight into the hopes, fears and beliefs of the ordinary people who have gone before us
To find dates of forthcoming graffiti tours and more information about what to expect and how to book, please visit – https://www.eventbrite.co.uk/e/medieval-graffiti-tour-tickets-154095256059