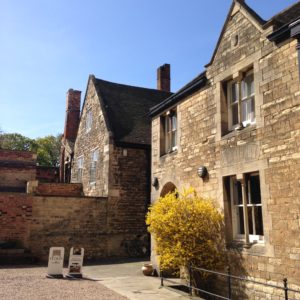 This magnificent 13th century building is the ideal location for gatherings, both business and pleasure.
Just in the shadow of Lincoln Cathedral's magnificent West Front, the Centre boasts a grand reception hall and several other rooms all with free WiFi access.
We specialise in hosting bespoke events ranging from conferences and meetings to retirement and birthday parties.
Choose from our wide selection of dishes to suit every occasion, all prepared on the premises using local produce, in our 5 star food hygiene rated kitchen.
Our visitors love the Cathedral Centre:
'A big thank you to you and your team for the excellent afternoon tea and service on Saturday.  We received a number of compliments from our guests in praise of your food.'
'Thanks Anita, and your splendid team, who cheerfully served us – so many more than expected – a great meal. Between you, you create not just good meals but a lovely atmosphere in which to enjoy them. I look forward to the next opportunity!'
'We will all remember for a long time the wonderful atmosphere.'
'The staff were professional and courteous…they made us feel very welcome!'
'Thank you so much for the lovely afternoon tea yesterday.  We all really enjoyed it and it added to the experience of our visit.  The warm hospitality we received was very much appreciated (and the cake was delicious!)'
Tours and Canapés!
The Cathedral Centre are now offering a wine and canapé reception followed by your own private tour of the Cathedral.
Click here for more information and how to book.
Breakfast at the Cathedral Centre
Come in, sit by our lovely log burner and start your day off right with our new light breakfast menu.

Special Occasions
Enjoy a champagne reception in the secret garden overlooked by Lincoln Cathedral, the perfect backdrop for your photographs, or use one or more of our rooms for a party or meal.
Corporate Entertainment
Dinner parties
Product launch meetings
Conferences
Meet & greet customers
Christmas parties
Exhibitions
Informal meetings
We will also be pleased to help with the organisation of any additional arrangements, whether it be a guided tour of the Cathedral, the Works Department or Library.
Facilities
We offer a large ground floor reception area along with several meeting and conference rooms with a separate coffee lounge. There are three more conference rooms on the first floor.
To find out more about these facilities, please contact the Centre by telephone 01522 561629 or by email cathedralcentre@lincolncathedral.com
Booking
We will be happy to show you around and discuss your individual requirements.
If you wish to receive a copy of our Terms & Conditions or collect a booking form, please call 01522 561629 or email us on cathedralcentre@lincolncathedral.com.
We look forward to hearing from you.