The Refectory nestles by the Chapter House at the far corner of the Cloisters, underneath the Library.
On a cold day it offers a warm space where you can enjoy home cooked Lincolnshire produce:
Homemade soup
Lincolnshire sausage rolls
Baked potatoes with various fillings
Cottage Pie with roast potatoes and vegetables
Cheese, onion and leek bake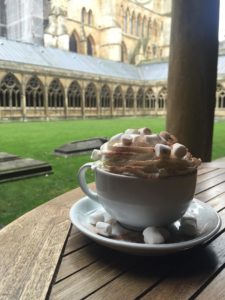 These are just an illustration of a menu that varies from day to day.
When it is sunny, there are tables in the cloisters where you can enjoy a glass of wine and perhaps one of our salads.
We are proud to feature Select Lincolnshire produce.
At any time:
Come in for a cappuccino, latte, espresso.
Enjoy a cup of tea, with a tempting selection of cakes.