Lincoln Cathedral Opening Times
Lincoln Cathedral
Monday to Saturday – 10am to 4pm
Sunday – 12noon to 3pm
The cathedral is open all day for prayer and reflection, opening for the first service in the morning and closing after the last service of the day.  Between 10am and 4pm (Monday to Saturday) admission charges normally apply, but access to all services is free of charge, and part of the cathedral always remains freely accessible for prayer and reflection.
There may be occasions when access is restricted to some parts of the Cathedral. Please visit https://lincolncathedral.com/visit-us/planned-closures/ to check for more details.
Lincoln Cathedral Shop and Lincoln Cathedral Café
Monday to Saturday 9am-5pm
Sunday 10am-4pm
Daily pattern of worship
[Click to enlarge]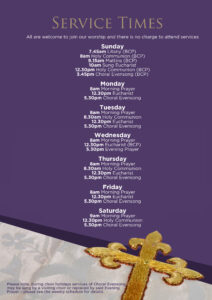 Duty Chaplains
Duty Chaplains are available to respond to your pastoral needs, whether you seek specific counsel or find your visit prompts questions that surface unexpectedly.