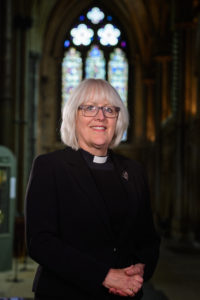 As Easter is celebrated, amongst the resurrection narratives is the account of Jesus appearing to his followers as they huddle in a locked room for fear of reprisals after his death. He bids them peace.
In another tender and consoling scene, he speaks to Mary Magdalene who is weeping in sorrow outside the tomb where they placed him after his crucifixion.
That same evening Christ draws alongside two of his followers as they travel away from the city, talking over the events of the past days and trying to make sense of all that has happened.
This year the Easter story resonates with so much of the tragedies of recent days in our world: locked rooms, isolation, fear, refugees fleeing from danger, death, disbelief and mourning.
In each of the encounters with the risen Lord, renewed hope is kindled, the power of love is made known, fear and confusion is infused with Christ's gift of peace.
Deep within each of these encounters joy begins to surface as they realise the power of love to overcome evil.
All around us at this time we witness a metaphor of resurrection in the glory of Spring bursting free from her wintry tomb. All is made new. Life leaps up vigorous and triumphant. Hope surrounds us.
As we contemplate the immensity of Christ's love revealed on the Cross and glory in the triumph of the empty tomb, we pray that all who find themselves bereft, alone or without comfort may discover with us all the power of Christ's resurrection.
"love is the lesson which the Lord has taught."
Edmund Spenser (1552- 99)