An Invitation
You are warmly invited to embark on the Journeys of Faith pilgrimage from St James' Church in Louth to Lincoln Cathedral.
The aim of the pilgrimage is to bring people together to reflect on the spiritual paths they're taking as they traverse the physical paths of the pilgrimage.
The journey from Louth to Lincoln is inspired by the Lincolnshire Rising of 1536 and Archbishop Stephen Langton's role in negotiating the original Magna Carta at Runnymede in 1215.
The Theme
The starting point of Louth was chosen because of its connection to the Lincolnshire Rising of 1536, when members of the local congregation marched towards Lincoln to protest religious changes that King Henry VIII had introduced. The numbers increased at every village along the way until there were thousands of people marching. The protesters occupied Lincoln Cathedral and sent a letter to the King setting out their grievances. It is said that the Lincolnshire Rising inspired the later and even larger march to London known as the Pilgrimage of Grace.
Long before that, in 1207, Stephen Langton had become Archbishop of Canterbury during King John's reign, that included unsuccessful military campaigns, a prolonged dispute with the Church / Pope and the baronial rebellion that led to the Magna Carta. In 1215 it was the energetic leadership of Archbishop Langton together with the barons' military strength that compelled King John to sign the Magna Carta at Runnymede. Stephen Langton was the leading mediator and the first clause of the Magna Carta confirms "that the English Church shall be free and have its rights undiminished and its liberties unimpaired".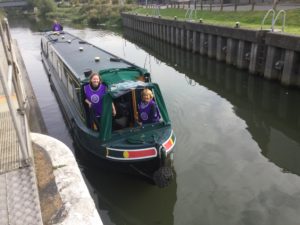 The Journey
This 52 mile pilgrimage includes rolling Lincolnshire Wolds, parts of the Viking Way, some pretty villages, woods and beautiful countryside and reaches Lincoln along the north bank of the River Witham.
The journey can be enjoyed at any time, by anyone of any age and of any faith, and can be completed by foot, car, motorcycle, bicycle or any other form of transport.
The Guidebook
The pocket sized "Journeys of Faith Guidebook, A pilgrimage from Louth – Lincoln" will ensure you stay on the right path. It contains coloured maps, walk notes, coloured photographs of the 15 historic churches on route, together with particular features of interest and some contemplative text.
Each church displays a Journeys of Faith Logo with a psalm number which you can record in the Pilgrim Passport at the back of your Guidebook. You will then receive an embossed stamp at the Cathedral to mark the completion of your Journey.
The Guidebook is available to purchase from the Cathedral shop or online by clicking here.