In 1826, William Allen built a new organ on the choir screen in a case designed by the Lincoln architect E J Wilson. Earlier instruments had been sited on the north side of St Hugh's Choir. The Allen instrument proved insufficiently powerful for services in the nave, a problem which was apparently not remedied by the enlargement carried out by Allen's son, Charles, in 1851. Henry Willis designed a new organ in 1885, but building work could not be undertaken due to a lack of funds.
When Dr G J Bennett was appointed Organist in 1895, the Precentor warned him that '…the organ is a queer old instrument… We shall certainly hope to get a new organ, but it may be some years first. We have no funds for the purpose…'
The realisation of Willis's scheme was made possible when the Lincoln industrialist, Alfred Shuttleworth gave £1000 towards the total £4675 cost, with the remainder being met by several other individual donations, and by public subscription. Completed in 1898, it proved to be the last cathedral organ finished by 'Father' Willis himself, and one of his finest instruments. It also has the distinction of being one of two Willis organs in English cathedrals to retain its original tonal scheme.
The new organ was based on Willis's 1885 design, and incorporated a few pipes from the earlier Allen instrument. Much larger than its predecessor, it required the enlargement of the Allen case, and the siting of the largest pedal pipes in the north triforium, along with the swell organ and the blowing plant. The organ was dedicated on St Hugh's Day, 17 November, 1898, before a congregation of 4700. It was to be the first British cathedral organ to be blown by electricity, but at the time of its inauguration, Lincoln's power station had not yet entered service, so it was pumped manually by soldiers of the Lincolnshire Regiment.
No changes were made until 1960, when Harrison and Harrison Ltd carried out a complete rebuild at a cost of £14000. Six new registers were added, but the Willis pipework was left unaltered. The action and blowing equipment were renewed, and a new console provided. A further restoration was undertaken by the same firm in 1998,  and the organ was rededicated on 20 November, just over a century after it was first played in public.
The organ is admired by organists from all over the world. Organ concerts are held regularly in the Cathedral and in recent years performers have included:
Olivier Latry                     (Notre Dame Cathedral, Paris)
Daniel Roth                        (St Sulpice, Paris)
John Scott                          (St Thomas, 5th Ave, New York)
Simon Preston                   (formerly of Westminster Abbey)
Dr Francis Jackson           (formerly of York Minster)
Carlo Curley
Winfried Bonig                  (Koln Cathedral, Germany)
Martin Baker                      (Westminster Cathedral)
James O'Donnell               (Westminster Abbey)
Martin Neary                     (formerly of Westminster Abbey)
Thomas Trotter                  (Symphony Hall, Birmingham)
Philippe Lefevbre              (Notre Dame Cathedral, Paris)
Jean Guillou                       (St Eustache, Paris)
The Organist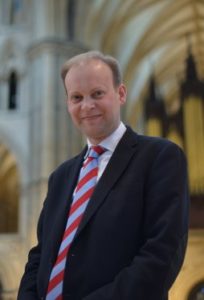 Jeffrey Makinson is Organist and Assistant Director of Music at Lincoln Cathedral. He is also Music Director of Beverley Chamber Choir and an accredited teacher for the Royal College of Organists Academy.
Born in Manchester in 1970, Jeffrey received his musical training at the Royal Northern College of Music and at Manchester University. He subsequently became Organ Scholar at York Minster for two years before spending five years as Assistant Organist at Lincoln Cathedral. He moved to Manchester Cathedral as Sub-Organist in 1999. During his time in Manchester he was Tutor of Organ at the Royal Northern College of Music and at Manchester University and Tutor in Piano at Chetham's School of Music.
Jeffrey returned to Lincoln in January 2015. As part of his duties at the Cathedral, Jeffrey accompanies the cathedral choir for most of the choral services and concerts and he is director of the girl choristers. Alongside his work in Lincoln, he maintains a busy schedule as a recitalist, accompanist, conductor, teacher and adjudicator in the city and across the country.
As an organist, Jeffrey has performed across Europe and North America. In the United Kingdom, he has given concerts at most of the major cathedrals, abbeys, collegiate chapels, churches and concert halls, including numerous recitals at Westminster Abbey, Westminster Cathedral, St. Paul's Cathedral and King's College, Cambridge.
Jeffrey is an examiner for the Royal College of Organists. He has also taught on numerous 'Royal College of Organists' and 'Oundle for Organists' courses.
Jeffrey works extensively for the BBC, as regular musical director and organist for Radio 4 Daily Service. In addition, he has worked on television and radio shows such as 'Songs of Praise', 'Chorister of the Year', 'Choral Evensong', 'Minstrels in the Gallery', 'Young Musician of the Year', 'Sunday Morning Worship' and the Radio 4 'Pilgrimage to Rome'. He has made numerous CD recordings, with the Albany, Delphian, Herald, Lammas, Naxos, Priory and Regent labels. For many years he was Organist in Residence at the Exon Singers Summer Festival, held in Devon.
Jeffrey has a keen interest in new music and has given first performances of works by numerous leading composers, including Michael Berkeley, Judith Bingham, Mark Blatchly, James Burton, Martin Bussey, Bob Chilcott, Naji Hakim, Robin Holloway, Grayston Ives, Francis Jackson, George Lloyd, Richard Lloyd, Philip Moore, Howard Skempton and Philip Wilby.
As an orchestral musician, he has worked alongside some of the country's leading ensembles, including the BBC Philharmonic Orchestra, Hallé, Liverpool Philharmonic Orchestra, Manchester Camerata, Northern Chamber Orchestra and the Philharmonia Orchestra.
Future projects include a solo CD recording of British romantic organ music on the Father Willis organ of Lincoln Cathedral and solo recital tours to Denmark, France and the USA.
Contact details
jeffrey.makinson@lincolncathedral.com
The Organist Emeritus
Colin Walsh is at the front of his generation of organists in England.  He has played many recitals in England in cathedrals, abbeys, college chapels and two at the Royal Festival Hall.
Colin Walsh's association with cathedral music goes back over 40 years. He has served, in various capacities, St George's Chapel Windsor Castle, Christ Church Oxford (where he took an honours degree in music), Salisbury Cathedral and St Albans Cathedral. He came to Lincoln Cathedral in 1988.
As an organ recitalist he has played in all the major venues in the UK, most European countries, the USA, Australasia, Hong Kong and Russia.
He studied in Paris with the blind French organist and composer Jean Langlais who inspired him to specialise in 19th and 20th century French organ music. In 1988 he played, at a public concert, the music of Olivier Messiaen in front of the composer. His recordings on CD and DVD as a choral conductor, accompanist and soloist number nearly 40 over many years and various labels.  More recently he appeared as organ soloist in the BBC Radio 3 'Live in Concert' series.
He describes the famous 'Father' Henry Willis Organ of Lincoln Cathedral as 'one of the best'. He teaches in Cambridge and London and last year he received an Honorary Doctorate of Music from the University of Lincoln. His interests include travel, animals and, of course, good food.
Contact Details
Email: colinwalsh1955@gmail.com
Tel: 07720 435347
Detailed Specification
Specification of the Lincoln Cathedral Father Willis Organ
Pedal Compass-low C Compass-high f1 Keys 30
Double Open Diapason 32 A, wood*
Open Wood 16 A*
Open Metal 16*
Violone 16
Bourdon 16
Dulciana 16 1960
Octave 8 A, wood
Violoncello 8
Dulciana 8 1960*
Super Octave 4
Contra Posaune 32*
Ophicleide 16*
Clarion 8* Choir Compass-low C Compass-high a3 Keys 58
Lieblich Bourdon 16
Open Diapason 8 1960
Lieblich Gedeckt 8
Dulciana 8
Viola da Gamba 8
Hohl Flöte 8
Gemshorn 4
Concert Flute 4
Nazard 2 2/3 1960
Piccolo Harmonique 2
Tierce 1 3/5 1960
Mixture III 1960, 22.26.29
Cor Anglais 16
Corno di Bassetto 8
Tremulant 1998 Great Key action EP Stop action EP Compass-low C Compass-high a3 Keys 58
Double Open Diapason 16
Open Diapason I 8
Open Diapason II 8
Open Diapason III 8
Stopped Diapason 8
Claribel Flute 8
Principal 4
Flute Harmonique 4
Twelfth 2 2/3
Fifteenth 2
Mixture III 12.19.22
Trombone 16
Tromba 8
Clarion 4 Swell Compass-low C Compass-high a3 Keys 58 Enclosed
Double Open Diapason 16*
Open Diapason I 8*
Open Diapason II 8 Voce Umana 8*
Lieblich Gedeckt 8*
Salicional 8*
Vox Angelica 8 TC*
Principal 4*
Lieblich Flöte 4*
Fifteenth 2*
Mixture III 12.19.22*
Double Trumpet 16*
Trumpet 8*
Oboe 8*
Vox Humana 8*
Clarion 4*
Tremulant*
Claribel Flute 8 unenclosed
Gamba 8
Voix Celéste 8 TC
Harmonic Flute 4
Orchestral Oboe 8
Orchestral Clarinet 8
Tremulant
Tuba 8 unenclosed
Tuba Clarion 4 unenclosed
Couplers
Swell to Pedal
Swell to Great
Swell to Choir
Swell octave
Swell suboctave
Swell unison off
Choir to Great
Choir to Pedal
Great to Pedal
Great Reeds on Choir
Great to Solo
Solo to Pedal
Solo to Choir
Solo to Great
Solo to Swell
Solo Octave
Solo Sub Octave
Solo Unison Off
Full complement of general and divisional combinations.