Sacred Space – 19 September 2021, 7pm
Sacred Space is a gentle and reflective service with time to wonder, the opportunity to use all your senses to explore faith and the chance to experience the unique and serene atmosphere of the Cathedral as the day draws to a close. It will be led by the Revd Canon David Dadswell.
The theme for this month is 'Create a new heaven and a new earth'. And we will be looking forward to the COP26 conference in Glasgow and going back to the 'new normal'.
As you move around the Cathedral, there will be a number of different stations to aid prayer and reflection. These include:
The labyrinth
Bible study
Prayers at St Hugh's Shrine
The opportunity to light candles
Stations created by our curate Revd Rachel Revely
Reflections on saints by the statue of the Blessed Virgin Mary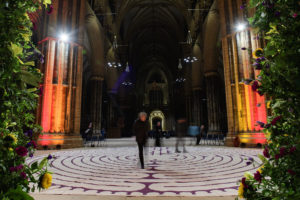 Dates for future Sacred Space services
28th November
20th February
20th March
22nd May
17th July