The Legacy of Katherine Swynford
Katherine Swynford, and her daughter Joan Beaufort, are both important ancestors of the British monarchy. Katherine's romantic story is immortalised in novel Katherine by Anya Seton. She was from a modest background, but fell in love with John of Gaunt, third son of King Edward III. Despite many social barriers, they were married in this Cathedral, in 1396. This made Katherine Duchess of Lancaster and the first lady of England at the time.
The couple had four children, and their daughter Joan Beaufort, Countess of Westmorland, is buried here beside her mother. Joan was grandmother to the Plantagenet kings Richard III and Edward IV, from whom descended the Tudor and Stuart dynasties, and all subsequent British royals.
Katherine's personal coat of arms features a red shield with golden wheels. Her maiden name was de Roet, meaning wheel. She was born in the Low Countries in around 1350; as she was of an obscure family, her precise date of birth was not recorded. This was typical for female babies at the time, even in higher born families. Her father was a servant of Queen Philippa of Hainault, and came to England with her, when she married King Edward III.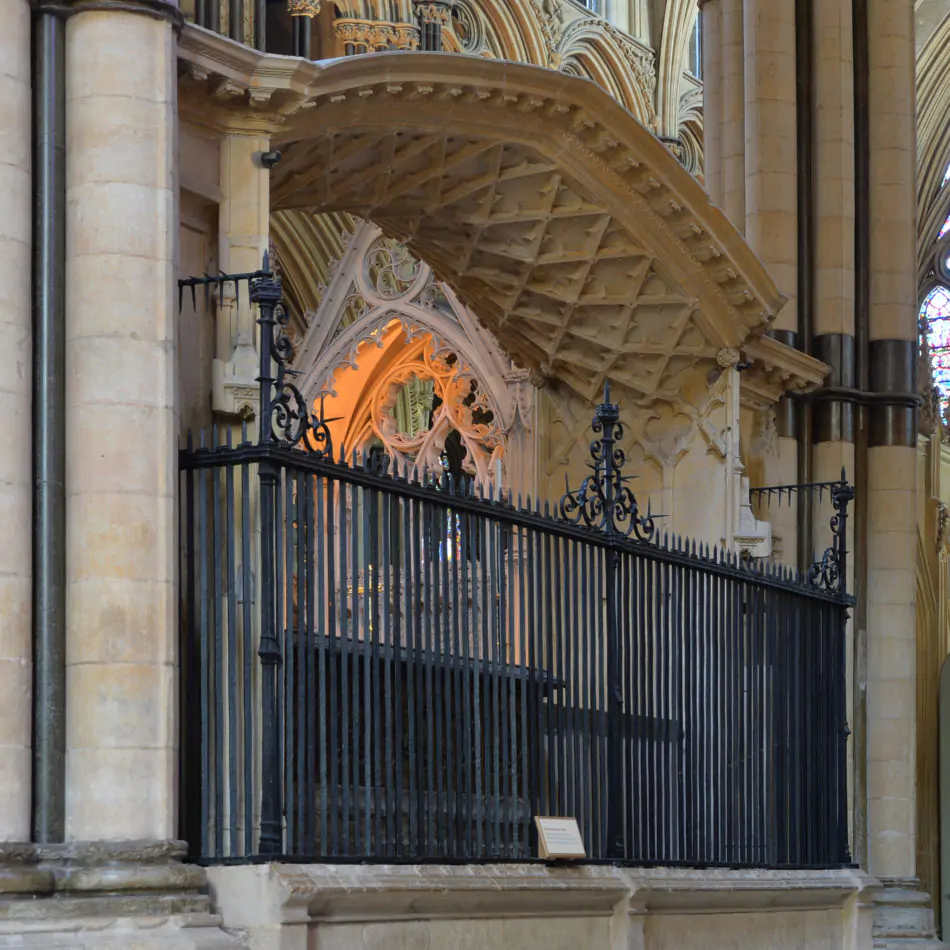 Part of the British Monarchy
John of Gaunt, as a son of a king, was also uncle to Edward III's successor, Richard II. When John of Gaunt died in 1399, his son (from his first marriage) Henry of Bolingbroke took the throne from Richard, and became Henry IV.
Katherine and John both made first marriages at a young age, and were apparently happy with their spouses (Hugh Swynford, of Kettlethorpe in Lincolnshire, and Blanche of Lancaster, respectively). Hugh Swynford was a minor knight connected to John of Gaunt's household. When Blanche of Lancaster died, John of Gaunt asked Katherine to become governess to his young daughters. Hugh died soon after, and John and Katherine embarked on a romantic relationship that transcended social barriers. It was also a moral scandal, since John had made a political second marriage (to a Princess of Spain) soon after losing Blanche, so was a married man.
John and Katherine initially caused controversy by being open as a couple, and later, had to break up (or perhaps hide their relationship) in response to public opinion. During the time of their 15-year estrangement, Katherine lived quietly here in Lincoln Cathedral Close, in a house which is now The Deanery. When John's wife died, they applied to be married. After their wedding, which returned her to high social standing, Katherine travelled with John around his many properties, but she returned to Lincoln Cathedral Close when he died, after only four years of marriage. She remained here until she died in 1403, and was buried in this Cathedral.
Katherine and John of Gaunt are ancestors of the British royal family through multiple lines of descent. John's direct male descendants were kings Henry IV, V and VI, but their line came to an end when it was usurped by Yorkists Edward IV and Richard III – grandsons of Joan Beaufort, Katherine and John's daughter. In turn their line was usurped by Henry Tudor, who was himself the great-grandson of Katherine and John's son, John Beaufort. Henry Tudor legitimised his claim by marrying Elizabeth of York, daughter of Edward IV and great-granddaughter of Joan Beaufort. Their son was Henry VIII, and their grandchildren were Edward VI, Mary I and Elizabeth I. Their daughter Margaret married into the Scottish monarchy, and was the great-grandmother of James I/VI, from whom the Stuart, Hanover and Windsor lines descend.
Books featuring Katherine's story are available in the Cathedral shop.